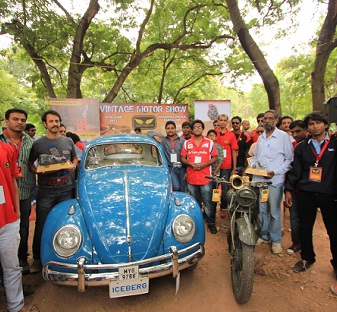 June 16 saw lovers of antiques and vintage vehicles, vintage car owners and automobile enthusiasts flock to the Jayamahal Palace Hotel grounds for the Motorphillia Vintage Motor Show.
The show coincided with the launch of Motorphillia's Motor Club and honouring of the best vintage vehicles and individuals who have contributed towards road safety. Those present were also encouraged to donate to Edventure, an NGO that focuses on every child's right to education.
Ian Oberoi's 1953 Volkswagen Beetle was voted 'Best in the show' in the four-wheeler category while DRS Prabhu's 1939 BSA M 20 won it in the two-wheeler category. A former Mico (Now Bosch) employee Mr Ramachandran BM was lauded for being an honorary traffic manager in 5th Main Cross near Arekere Layout for the last five years.
Chethan and Naveen, co-owners of Motorphillia commented about the show, "We honestly didn't expect such a good response and are honoured that the number of vintage car lovers in Bangalore are so encouraging."