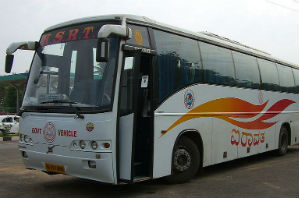 Following the recent tragedies with Volvo buses, the transport department has passed an order that Volvo must build two extra emergency exit doors in all air-conditioned buses operated by private owners to ensure passenger safety. There should be one on the right hand side of the middle of the bus and one at the rear.
The decision was taken by the state transport minister, Ramalinga Reddy, after meeting 200 private operators in the city. Reddy said, "At present in Volvo AC buses, there is only one exit door. Private operators may lose two seats after building the second door. They have sought three months to follow the direction." Reddy added that certain rules in the Motor Vehicle Act need to be modified to make this mandatory in newly built buses.
According to the new plan, the exit doors should be visible to all the passengers. It should be easily accessible and easy to open in the time of emergency. The doors should be easy to open from inside and outside the bus. Besides, no driver will be allowed to work more than eight hours in a day.
In the coming days, KSRTC's AC buses will also build one more exit door in their respective workshops.
The state government has also suggested to the private operators to install an announcement system, which will help passengers in operating emergency exit. In an audio-visual format the announcement will also instruct how to save lives during the time of emergency.
The minister also said that once the rule of speed governor is implemented, buses cannot run at more than 80 kmph. The new rule will be applicable from April, 2014.
Reproduced from Bangalore Mirror