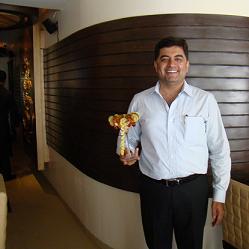 Jagdish M Menda
Owner, Hunan
What do you like about this city?
The people here are very friendly and helpful. I lived abroad for some time, and never got to know my neighbours. Here, people go out of their way to get to know you, and help you.
What do you like to do when you're not at work?
I like socialising, and trying out different places in the city. Toit, The Biere Club, and Punjabi By Nature are some of my favourites. When people from out of town come to visit, I take them to UB City, and Skyye. It's one of the best lounge bars around.
How do you think the city can improve?
Traffic is a nightmare, but I think it can be improved if people develop better road sense. When you look at cities like Delhi and Mumbai, people stick to their lanes more than they do here. Also, the government should devote more time and money to improve the city's infrastructure.