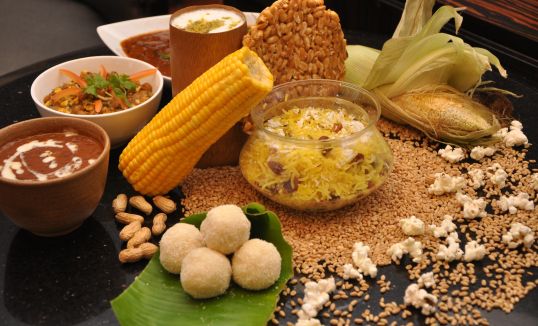 Baisakhi festival is the harvest festival of Punjab. Which is why we celebrate in Bangalore too. Bangalore has always been home to people from all regions. Bengalis also celebrate Noboborsho, and Malayalees Celebrate Vishu in Bangalore. So people who have lived here all their lives as well as the out-of-towners looking for piety this baisakhi festival can celebrate. The city's five-stars have always been home to the home sick.
Hotels like The Lalit Ashok and JW Marriott have ongoing promotions for the festival.
Baluchi at The Lalit offers an exclusive menu. The pan-Indian menu has been curated by Chef Ashish Sanyal. The menu is made with local flavours that mark the season. Chef Ashish told Explocity, "I am really looking forward to India sampling some amazing recipes during Baisakhi." The menu is a la carte and is available for lunch and dinner till 22 April, 2018. Chef also says about Indian cuisine, Every time I step into the kitchen, the expansive nature of Indian cuisine surprises me. It is my pleasure to share some of the best North Indian delicacies I have created during my career."
JW Marriott celebrates the agrarian feast with their Sunday brunch. There is Sarson Ka Saag, Shukto, Rajma Rasmisa and even Bengali dishes like Aloo Dum, Chingri Malai and Kosha Mangsho. For Baisakhi festival, savour the meal with Jalebi with Rabdi. The brunch is on 15 April, 2018 and is priced at Rs 2450 without alcohol and Rs 3400 with alcohol.
The Sheraton Grand Bangalore is also celebrating Baisakhi. We already covered it hereclick here.