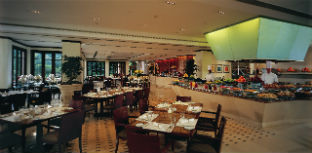 Citrus due to reopen at The Leela.
The teaser campaign was compelling—an upwardly mobile orange with the word "Citrus" appearing progressively as the only element of ad copy.
So much was enough for fans of The Leela's famous brunch. The (largely weekend) brunch at the old Citrus was popular among Bangaloreans mainly for its spread. One fan, a leading social butterfly in the city, told Explocity, "The spread was huge. It included a selection of cold cuts that I have not found anywhere else in the city. I am glad they're back. I can't wait to see what they have done with the new place."
That would be the principal concern of Executive Chef Adrian Peter Mellor and his team who have planned a spread that includes dishes from around the world, typically the Continent, Middle- and Far East to make sure the brunchers are happy.
The folks at The Leela are clearly excited about the new Citrus.
Hotel GM, Andrew Hendrian, described the experience as "Theatre of Food". He said, "I am certain that the all new Citrus is sure to exceed all expectations."
The hotel's top pastry chef, Avijit Ghosh summed it up thus, "Nobody goes back from here with anything less than a blissful beatitude."