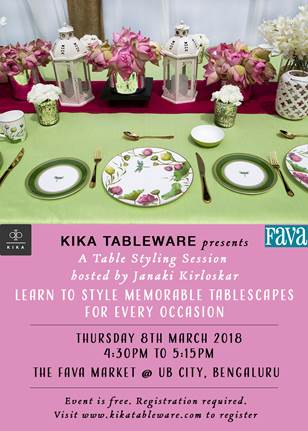 The FAVA Market celebrates every special day in Bangalore. On 8 March, 2018 there is a Women's Day Edition FAVA Market. As usual they offer all natural and healthy products.
This time they have tableware, flower arrangements, designer wear, natural paper products, leather handbags and all natural bath and beauty products.
The organic food available are condiments, sauces, breads, jams, fruit spreads, gluten free bakes and millet products.
The highlight events at the market are:
Demonstration of Floral Design by Tania Ruth Huyghe from Flowerbox, Belgium- 2:30pm to 4pm
Table styling by Janaki Kirloskar Kika of Tableware- 4:30pm to 5:15pm
The Women's Day Edition FAVA Market is from 11am to 6pm at UB City.