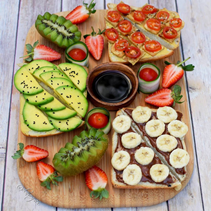 Robert A Heinlein may have been a science-fiction writer but he wrote the truth when he said, "One should not attend even the end of the world without a good breakfast." The super breakfast at Radisson Blu equips you with sustenance to survive the end of the world.
As the hotel's brand standard they provide global foods for guests of all ethnicities to feel at home. There is an emphasis on the  local dishes of the city the hotel is located in. The Radisson Blu Atria serves fresh fruits, cheeses, cold cuts, breads like croissants, danish pastries, pain au chocolat, muffins and more. There are a choice of drinks like fresh pressed juices, probiotic drinks and depending on the season drinks like buttermilk and Shikanji are available.

Part of the global foods they offer is Congee with assortments like bean sprouts, cabbage, soya sauce and vinegar.
Eggs to order is common on most breakfast menu. There is also hash browns and grilled tomatoes. Waffles and pancakes are served with honey.
In Bangalore, they serve Uppit, Idli, Dosa made to order and Vadas.

For your caffeine fix there is coffee, or tea for those so inclined.

The breakfast is available every morning and from 6:30 am to 10pm. The hotel is located close to Cubbon Park for a post exercise breakfast.

The super breakfast is priced at Rs 750 plus taxes.
At One Atria Cafe, Radisson Blu Atria.