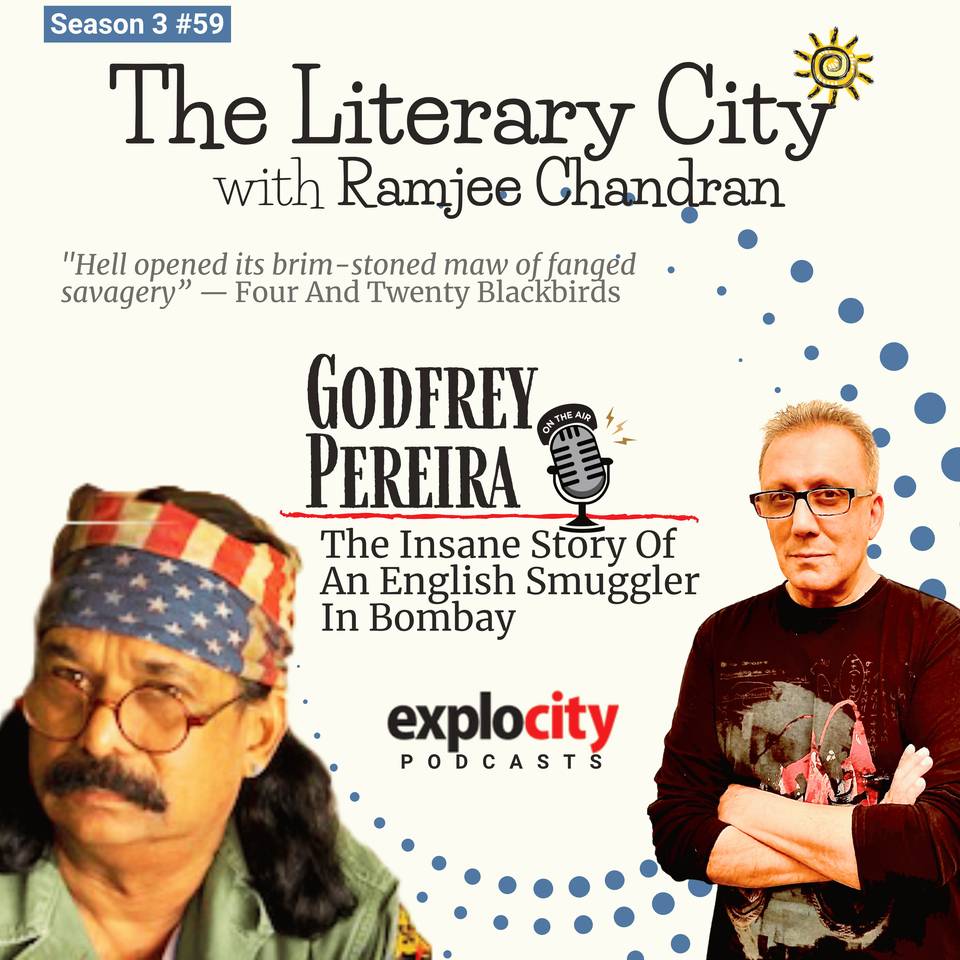 This is the incredible but true story of an Englishman—a dockworker in Bombay in the 1940s, who became a smuggler around the time of Independence.

Not far offshore from the Ferry Wharf in Mumbai is a small island. It's only some 100 metres out by boat, and you can see it from Ferry Wharf. It's called Cross Island. You can see Cross Island on Google Maps. But even people who have lived in Mumbai all their lives are not aware that this island even exists.

Mystery has always shrouded Cross Island. And like every abandoned or uninhabited place, it is beset by urban legend. The usual stuff… it's haunted… it has ghosts… but the most compelling mystery of Cross Island is the story of the gold supposedly buried there.

My guest today, Godfrey Pereria reads a passage about the gold that was buried on Cross Island because of the doings of the famous Portuguese poet Luis de Camoes. And about how the ship captain who actually hid the gold on the island was killed in a fight and how, since then, no one has been able to find the gold.

Godfrey Pereira is the author of the book, Four And Twenty Blackbirds. He chanced upon the story of an Englishman, Charlie Strongbow,—an Englishman, born and raised in Bombay and a dockworker in the Bombay docks.

Charlie Strongbow was one of a few Englishmen who were in India at the time of Independence, but did not leave India. Returning to England was not an option for them as they had nothing there. He and 23 others—hence four and twenty—British people move to Cross Island to set up a smuggling operation.

We have all read colonial and independence and partition stories all of which tend to be about people at the top of society or who are responsible for historical events. But Godfrey Pereira's historical fiction novel highlights another point of view. It focuses on this group of Britishers of lowly status—men of calloused hands and base desires—trying to survive independence. It's a new perspective on the colonial era.

And of course, there's always gold. There's no evidence that the poet Luis de Camoes decamped with stolen gold, but the damnedest thing is that in 2021—just two years ago—workers dredging in Cross Island found two bars of gold stuck in their dredging equipment.

Was this the gold that de Camoes had decamped with? Or was it all urban legend Godfrey Pereira joins me from his home in West Palm Beach, Florida so we can ask him.

ABOUT GODFREY PEREIRA
Born in Pali Village, Bandra, Bombay, Godfrey Joseph Pereira graduated from college with a degree in English Literature and Philosophy. What followed was a career in journalism. He worked with leading national magazines and worked as War Correspondent covering the First Gulf War from Israel. His first novel Bloodline Bandra was published by HarperCollins in 2014. His second novel is  Four And Twenty Blackbirds, a work of historical fiction. He has just finished his third novel The Incredible India Brownwash. He has lived and worked as a journalist in Bombay, New York City and New Jersey and now works and resides in West Palm Beach, Florida.

Buy Four And Twenty Blackbirds here: https://amzn.to/3PGCkRL

WHAT'S THAT WORD?!
Co-host Pranati "Pea" Madhav joins Ramjee Chandran in "What's That Word?!",  where they discuss the meaning and origins of "Let the chips fall where they may".

WANT TO BE ON THE SHOW?
Reach us by mail: theliterarycity@explocity.com or simply, tlc@explocity.com.
Or here: https://www.facebook.com/groups/theliterarycity
Or here:  https://www.instagram.com/explocityblr/