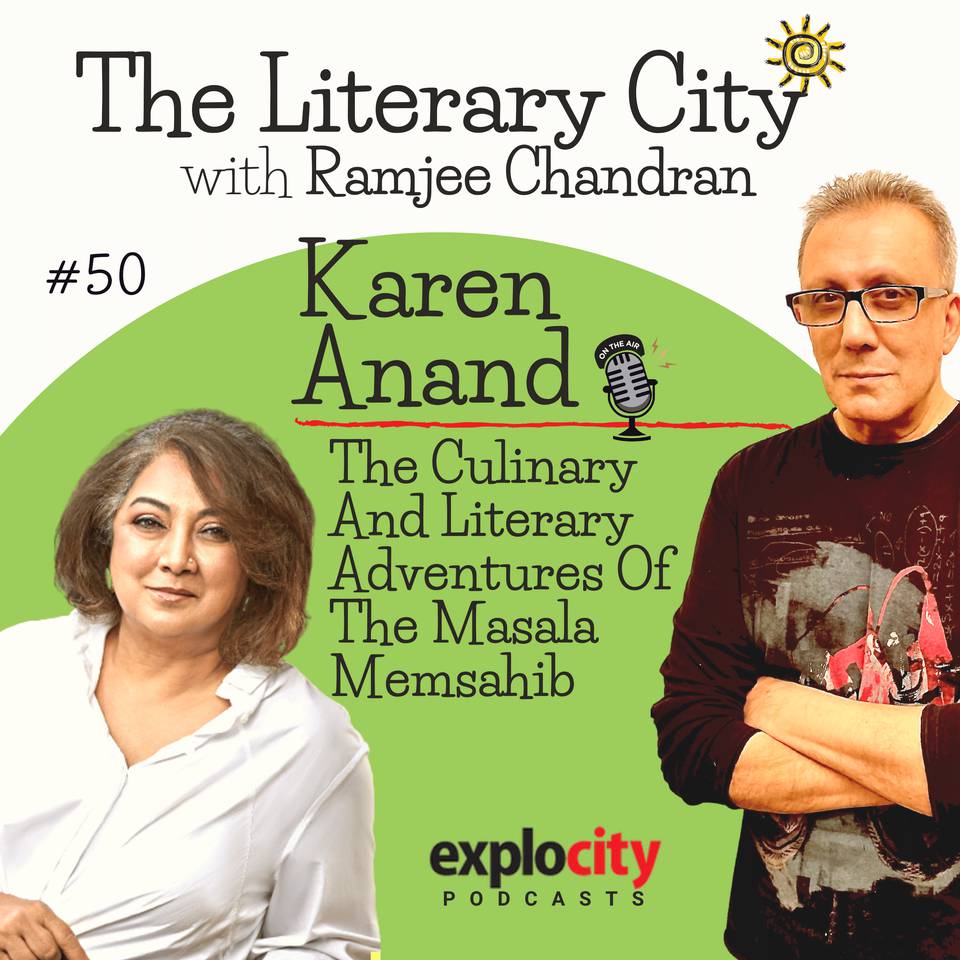 UPDATE: Scroll to the bottom to watch video, "Karen Anand Cooks A Chrstmas Ham".
There's something primal about watching food shows on TV. Or any food show. Even restaurants that have a glass pane through which you can watch the chefs in the kitchen doing their thing. It engages your attention while they ham it up. No that's not a pun.

The business of someone setting about chopping up ingredients and turning them into masterful creations of art–truly subliminal and soul stirring to watch on the couch, while you eat instant noodles, unmindful of the irony.

I had no better example than when my partner and I had bought the kids in our apartment building a ton of firecrackers for Deepavali. They had great fun on the street. Suddenly, at 8pm, total silence. They were gone. Bags of fireworks lay unattended on the sidewalk, the starter candles drooping.

And where had all these pre-teen children gone? To watch Masterchef on TV.

For many of us, watching cooking shows or reading about food is a form of escapism. It transports us to far-off lands and exotic cuisines, allowing us to experience new flavors and dishes without leaving home.

But there's more to our love of food literature than just the escapism it provides. Food brings people together. Reading about it gives us a sense of connection. Sharing a meal is a fundamental human experience, and reading about food allows us to share in that experience–even vicariously. By reading about the foods of different regions and countries, we gain insights into their customs, cultures and traditions. So much history and indeed, social anthropology there.

On this podcast—after months of dealing with authors who have written about the ravages of war and politics and poetry's melancholic joy—today I feel as happy as a predictable late light TV talkshow host who is about to cook Christmas turkey with Martha Stewart.


Except that my guest today is closer to Julia Child, the famous author of cookbooks and host of TV and radio shows in the US. You might remember that Meryl Streep played Julia Child in the movie Julie and Julia.

My guest is Karen Anand, one of India's best known food personalities. Author of some 30 books and host of TV shows since the mid-1980s Karen has brought class to the industry in India. She is widely respected and—to my knowledge—chefs of all persuasions are known to court her opinion and her approval.

Her most recent book is intriguingly titled "Masala Memsahib" and it is a wonderful journey through giving us a window into food across India. Her expertise is honed from years of practice and her prose is that of a very competent and imaginative writer. And I am eager to talk to her about the book and about her life. So here she is. Karen Anand, welcome to The Literary City.

ABOUT KAREN ANAND
Karen Anand is widely accepted as one of India's first food gurus. A prolific author with some 30 books published, she has been a TV host on popular food shows.  Karen received the prestigious Food & Spirit Award (Trophée de l'Esprit Alimentaire) for Culture from the French Government. In 2019, she won the French Ambassadors Travel Writers Award.

Buy Masala Memsahib: https://amzn.to/3hkNywB

WHAT'S THAT WORD?!
Co-host Pranati "Pea" Madhav joins Ramjee Chandran in "What's That Word?!",  where they discuss the interesting phrase, "CHERCHEZ LA FEMME".  Plus they are joined by celebrity chef, Abhijit Saha.

WANT TO BE ON THE SHOW?
Reach us by mail: theliterarycity@explocity.com or simply, tlc@explocity.com.
Or here: https://www.facebook.com/groups/theliterarycity
Or here:  https://www.instagram.com/explocityblr/
UPDATE: KAREN ANAND COOKS A CHRISTMAS HAM... WATCH