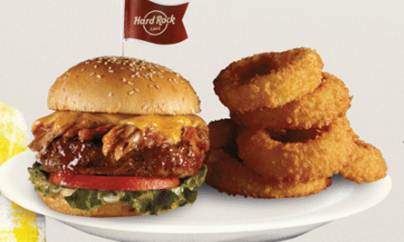 Kingsman: The Golden Circle is in theatres and if you are a fan of Julianne Moore, there is a Poppy Burger at Hard Rock Cafe named after her character in the movie. The Poppy Burger is a take on the diner owner and villain in the movie that makes a zombie burger. Watch the movie to find out more on that.

On the burger at Hard Rock Cafe, you can get information here. This limited edition burger has a half pound of Certified Angus Meat that is basted with a whiskey glaze and topped with pulled pork, melted cheddar, garlic aioli, lettuce and tomatoes. The bun is not a poppy seed but a sesame seed bun. The Poppy Burger is served with Golden Circles (onion rings) on the side.
This special edition burger is available in all Hard Rock Cafe outlets in the country till 6 October, 2017. The Poppy Burger is priced at Rs 569 plus taxes in Bangalore.