Fittingly, today 26 August, International Dog Day, Radha Thomas's new book "Dog Tails" hit the Amazon Bestseller list. 
The book is a heartwarming and heart-wrenching tale of three dogs in the tony, dog-friendly neighbourhood of Cooke Town in Bangalore.
Overcome by her love for her two dogs and for canines at large, Radha Thomas donated her latest book Dog Tails, to an animal charity. All proceeds from the sale of the book 100%, will go to Charlie's Animal Rescue Centre - CARE. 
Sudha Narayan of CARE said she was very excited and is in awe of Thomas's generosity. "A book is your baby, it takes time and effort to create and Radha just gave it to us. We love Radha," Narayan told Explocity. She also said that Thomas took great care to ensure the process was set up correctly with Amazon to ensure every single rupee reaches their bank account directly. She's certain this book is going to make a big impact, not just in the short run but in the long run too it will be used as a fundraiser.
The book, priced at Rs 250, is available only as a Kindle book, and is available on the Amazon bookstore here.
Radha Thomas' generosity bears fruit almost at once. "Dog Tails" is already on the Amazon Bestseller tag, "Best-sellers rank #154 in Kindle Store", "#1 in Animal Care & Pets eBooks" and "#2 in Pets & Animal Care (Books)".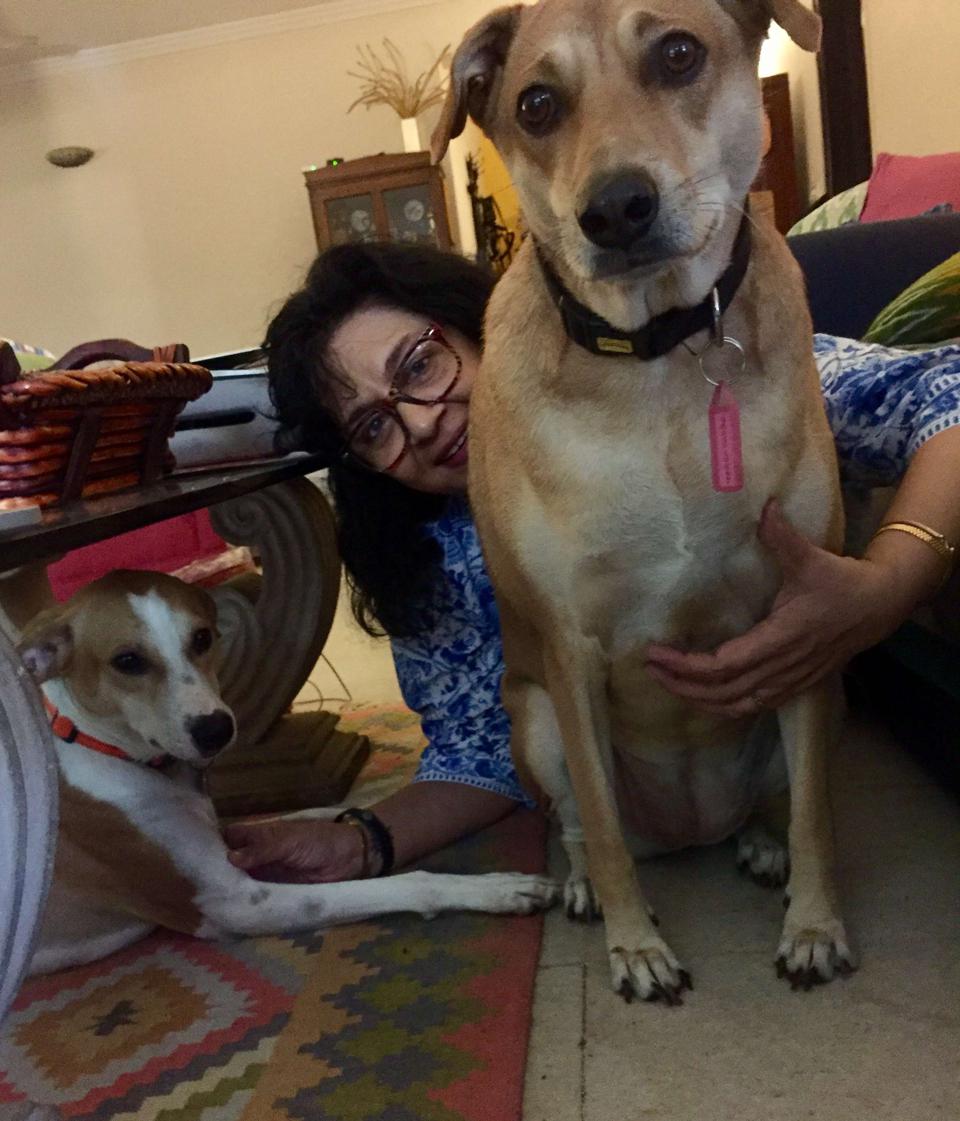 Explocity asked Thomas why the book was not available in print too; wouldn't people love to have this physical copy in their homes? 
Thomas explained that she wanted every rupee collected to go to charity and not on production costs. "When you print a book you pay the paper supplier, typesetter, printer, and a zillion other people," she said, "and Amazon itself takes 30% leaving very little for the charity in the end."
"Besides why chop down trees for this?" she added. 
Like Thomas's other books, "Dog Tails" is also 100% autobiographical. Ever since she adopted her first street dog, Brownie, six years ago, Thomas has been donating money to many animal charities, "at the drop of a hat". Brownie was her introduction into the world of street dogs.
Times like Covid make life difficult for street dogs. Thomas said, "these are desperate times and we should all do as much as we can (to help them)." 
How will CARE use the money? "They need the money to get dogs spayed, vaccinated and fed," said Thomas referring to the Indie situation. 
You can contribute to this cause by buying the book here: https://www.amazon.in/dp/B08GJ2BY76. As above, 100% of the proceeds will go to CARE. 
Radha Thomas is well known internationally as a jazz singer and songwriter and has authored many books. Her writing style is smart and funny. More about her here, www.radhathomas.com.