On view at Gallery Time and Space is Shuvaprasanna Bhattacharya's recent work, "Faces—A Race From Epic". It is a collection of studies of characters from the Mahabharata.
In the space of 20 inches x 20 inches (20 in = 50.8cm), the essential and unique nature of Race From Epic takes the viewer to a timeless universe of avatars and apsaras, sages, warriors and a blend of animal, human and celestial qualities—a metaphor of the original.
The virtuosity of the artist is visible in the ostensibly simple and at the same time masterful use of colour and texture, light, body line and gesture. The images, Shuvaprasanna says "...cover the whole gamut of human existence—anger, wrath, hatred, envy, greed, desire, sexuality along with sacrifice, abstinence, courage and chivalry." 
Inaugurated recently by Kiran Mazumdar Shaw, a collector, with Shuvaprasanna Bhattacharya present at Gallery Time and Space. Shaw and Bhattacharya shared personal experiences with those who attended the inauguration.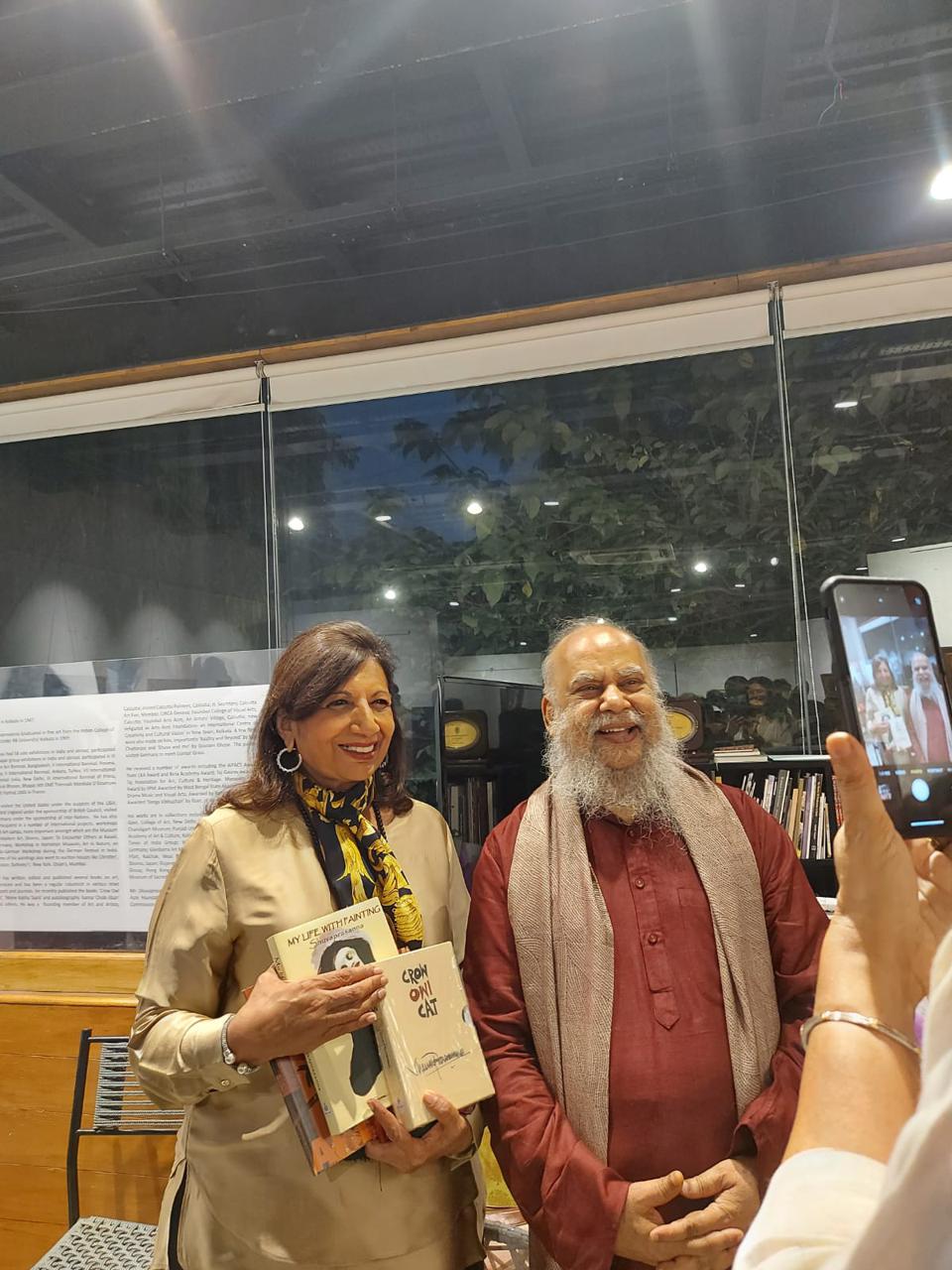 Born in Kolkata in 1947, Shuvaprasanna found his calling as an artist at 10 years old, when he spontaneously painted a portrait of the Soviet Head of State Kliment Voroshilov at the Raj Bhavan, Kolkata and was rewarded with a kiss on the forehead. His success as a boy portraitist endeared him to all and gave him easy access to great leaders of the time. He later graduated from the Indian College of Arts, Rabindra Bharati University in 1969.
The artist observes that "in Calcutta one cannot ignore the crow". Intricately etched lines of these birds appear with unruffled feathers and pugnacious expressions that contain layers of significance.
"Crows, Cats, Owls" are animals repeatedly depicted as single images in graphic prints and paintings. He studied and mastered the art of printmaking in Germany when he was a resident.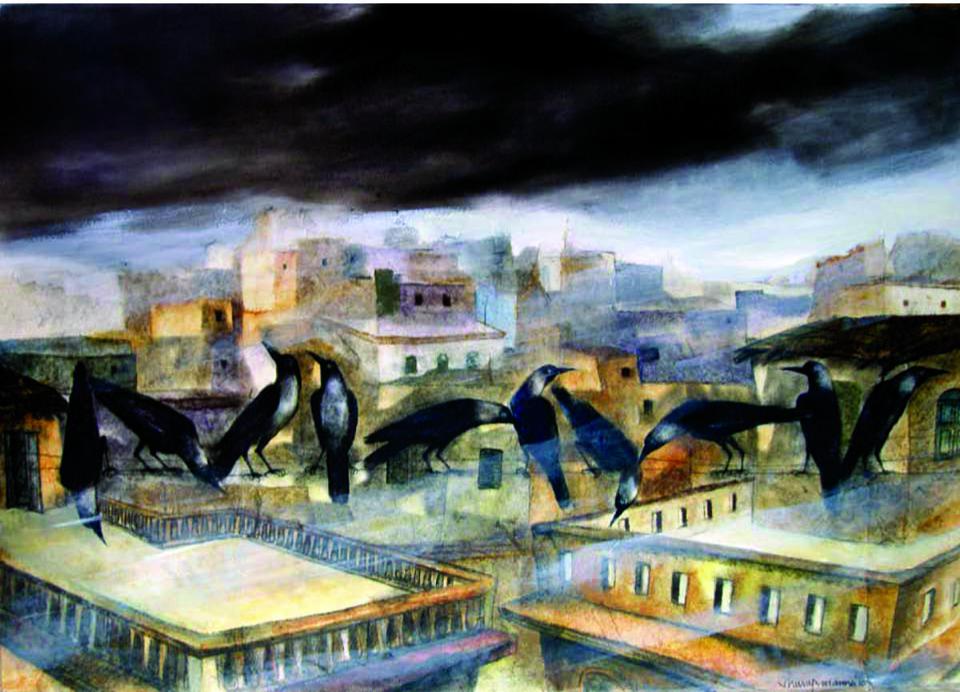 Shuvaprasanna has also worked on sculpture and most recently installed a large sculpture in Sarovar Park in Kolkata sponsored by the Birlas—as a tribute to the human struggle with Covid-19. It is also a tribute to the doctors and public health workers. The sculpture is 25 feet (7.6m) high and 8 feet (2.4m) wide and is made from approximately three tonnes of steel.
"Golden Flute" is the series that Shuvaprasanna has made for Lord Krishna. He is rendered naturally in blue, dark as a cloud, like he is in innumerable paintings from the past whether Rajasthani or Pahadi. The thilak mark that adorns his forehead is UrdhvaPundra for that is what Vaishnavs wear, what he carries in his hand is no weapon but a Bansuri (wooden flute). He wears the brilliant yellow garment, the pita vastra, which glistens against his dark skin. He plays the flute that so enchanted Radha and the gopikas. Equally with this series Shuvaprasanna transcends the temporal joy and sorrow with the eternal cosmic consciousness.
In the trajectory of his life as an artist, activist Shuvaprasanna's relation with the metropolis he inhabited was intimate and deep. Later he was one of the organizers of the Art Fair at the market square in 1968-69. On a visit to Paris he had been greatly impressed by the liberal atmosphere in which students of all grades trained under a non-interfering art teacher at the Ecole Nationale Superieure. In 1975 he founded his specially designed College of Visual Arts with the same teaching mode
The roster of his achievements includes over 60 solo shows and a large number of group shows in India and abroad. His art has gone to auction houses like Christie's London, Sotheby's New York, and Osian's Mumbai.
He has written, published and edited several books on art and literature and received a number of awards; some the highest of honours of the art world.
On a personal note, he has published and illustrated a book of poems written by me titled "Pilgrims on the Way" and for this I am indebted and deeply grateful. 
About Shuvaprasanna Bhattacharya
Shuvaprasanna is at present Chairman of West Bengal Heritage Commission, Govt. of West Bengal as well as Executive Trustee of Arts Acre Foundation. This is a facility where artists can hone their talents and art lovers can view the finest exhibitions in an idyllic setting of 7 acres. Shuva Da encourages the span of visual, performance and literary arts which reiterates the common belief of Bengal being the "Mecca" of Art in India.