Update: With covid cases on the rise once again, we are at another Easter a year later. The smell of hot cross buns in the air again. If you smell it, at least that means you are covid negative. But many of the regulations in the article are relevant today. It may not all be true but still wash your hands, wear a mask, and keep distance from your loved ones this Easter. 
Just in time for Easter in Bangalore, one could conclude. The Karnataka government sent out a circular saying bakery and related products are now exempt from the lockdown. This means that there needs to be no furtiveness about selling hot cross buns, a symbolic staple of the season.
Like most things symbolic of tradition, there are several stories about why hot cross buns are popular at Easter. A hot cross bun is a spiced sweet bun usually made with fruit, marked with a cross on the top, and traditionally eaten on Good Friday in the United Kingdom, Ireland, Australia, India, Canada, New Zealand, South Africa, the United States and some parts of the Americas.
The bun marks the end of Lent and different parts of the hot cross bun have a certain meaning, including the cross representing the crucifixion of Jesus.
Historically, the Greeks in the 6th century AD may have marked cakes with a cross. Another theory is that the Hot Cross Bun originates from St Albans, in England, where Brother Thomas Rodcliffe, a 14th-century monk at St Albans Abbey, developed a similar recipe called an 'Alban Bun' and distributed the bun to the local poor on Good Friday, starting in 1361.
And then from Australia, there's the "not cross bun", a variation that uses the same ingredients but instead of having a cross on top, it sports a smiley face (meaning "not cross" that is, not angry.) The "not cross bun" was first sold commercially in 2014 by an Australian bakery, Ferguson Plarre Bakehouses, in response to supermarkets selling hot cross buns as early as Christmas.
English folklore includes many superstitions surrounding hot cross buns. One of them says that buns baked and served on Good Friday will not spoil or grow mouldy during the subsequent year. Another encourages keeping such a bun for medicinal purposes. A piece of it given to someone ill is said to help them recover.
If taken on a sea voyage, hot cross buns are said to protect against shipwreck. If hung in the kitchen, they are said to protect against fires and ensure that all breads turn out perfectly. The hanging bun is replaced each year.
But Bangaloreans are going on any sea voyage. Many are at the end of Lent and can return to their usual tricks, muttering gratefully under their breath.
Either way, bakeries are many where one can buy hot cross buns in Bangalore. Koshy's is one.
Explocity spoke to Mr Prem Koshy, owner of Koshy's Bakery and the legendary Koshy's Parade Cafe. Koshy says the bakery, since it is an essential service, has remained open through the lockdown. "Initially we had trouble with the supply of materials in order to manufacture our products. I was in an auto trying to source the materials when we were stopped by the authorities. Luckily the cop on duty knew Koshy's and allowed us to proceed", says Koshy. Though he claims demand was always high, especially in these times.
Hygiene is of utmost importance, Koshy said, and the delivery agents of the bakery have been taught how to handle the products and even told to educate store owners on how to maintain hygiene. "Bread is always handled too much. In stores people like to touch and press the loaf to assess its freshness, he said, "so we ask shopkeepers to advise customers not to touch the product "We guarantee freshly made bread, so much so, that our bread lasts for not more than 48 hours. Since we don't use any preservatives."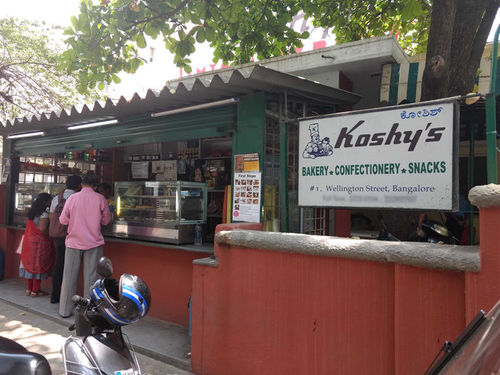 In this time of the virus, Koshy's staff are checked for temperature everyday.
While initially his staff were afraid of catching the virus, Koshy went daily to the bakery to assuage their fears of the staff. Among them, Koshy's lifer Abraham (who has worked with Koshy's grandfather) is the mainstay of the bakery. Abraham said that many people are depending on bread as their staple. Especially their neighbours, Little Sisters of the Poor who buy bread and eat it with either dal or sambar. 
Explocity has had a long association with Koshy's. Other than the bread we recommend the Chicken Puffs and Cashew Cookies. And, of course, the Hot Cross Buns this season.
Here's the extract from the government order. 
Other rules to be adhered by the establishment, per the annexure to the circular dated 6.04.2020, include:
Not to allow any sitting arrangements for customers for dining in the premises and the shop /premises shall be used only for parcel / take away services.

Thermal scanners to be used at the entry of factory gates for screening of all employees / workers for temperature. If anyone is found with fever needs to be reported to the local health department.

All employees and visitors must use hand sanitizers / wash mandatorily with soap / soap solution before entering the premises.

To provide masks to all the employees and workers and advise them to wear without fail.

To keep a safe distance of 1.5 meters between employees / workers to be kept in the factory at any time.

Employees to avoid physical greeting

To display precautionary measures like Visual Communication — Posters, Banners to be placed at work place in local language and educate employees / workers by public address system at equal intervals, every day.

To provide hot water facility for drinking (this one's a doozy - Ed.)

Employees / Workers to carry their own water bottles and maintain high standards of personal hygiene to protect the health of themselves and others by washing hands with soap water every time before and after use of all common facilities

To ensure regular supply hand sanitizers, soap and running water in the wash rooms

To make sure housekeeping team is on the job to improve hygiene standards and clean all access gates, handrails, door handles / knobs frequently, to improve hygiene and make sure was rooms are cleaned frequently

In cafeteria / canteen area, canteen workers should wear gloves, masks and maintain hygiene at all times.

Any employee / worker having cough, cold, fever or any visible symptoms, are advised to leave the work place under the guidance of HR, Welfare and EHS team.

Employees / officers who have undertaken personal / business travel abroad are advised to stay at home for a period of two weeks and seek prior approval of the management before they return to work.

To avoid all internal meetings and training programmes involving assembly of employees / officers

Biometric to be discontinued

To operate the units with bare minimum strength of staff / labour.
Koshy's Pic source: Nearbuy