Vikash Bafna is a simple man. He loves his wife, he loves his six month old daughter. And he loves the 18 dogs he cares for in Fraser Town. The immediate thing one notices about Bafna is that he is honest to purpose and lacks any artifice. 
He says he is a man with little material desire. Except if the materialistic thing is a furry, tail wagging dog. 
"My grandfather has built this beautiful house in Fraser town that he left me", Bafna told Explocity, so he doesn't need anything else to further his way in life. His measure of success is the animals he rescues. 
Bafna's lifestyle is defined by a Maruti van — his automobile of choice because it is a great vehicle in which to transport the animals he rescues to the vet and shelters. His income with which he rescues animals is modest and is based on a Trust and his expenses are mainly those of an assistant.
His Trust is called "Friend For Animal Trust" and runs on the generosity of donors who appreciate the work Bafna does rescuing animals.
Bafna's life obsession with rescuing animals started a little over four years ago.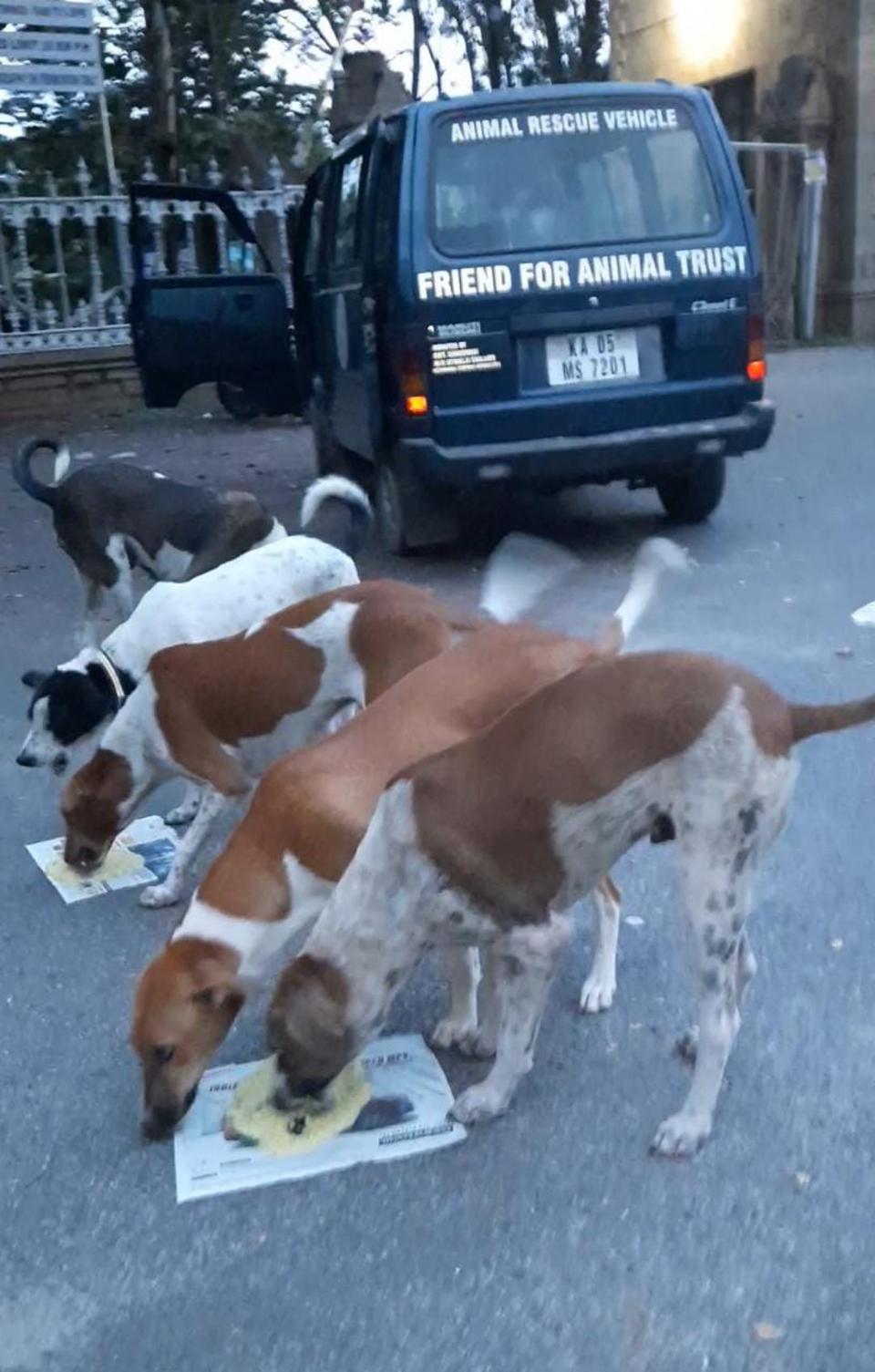 Bafna was in Banaswadi where he saw some small kids throwing stones at a Husky. It was injured and had a visible tumor in its head. He tried to educate the boys, even bribed them with chocolates to not hurt the dog, but care for it instead.
And then, unwilling to leave the dog there to die, he took the Husky home. That was his first rescue. He named the dog Husky. "I know how stupid and unoriginal of me," he admits. 
Back at home, Bafna talked to Husky to try and ease him out of his trauma. "I talk to all my dogs. That and feeding them by hand makes them feel better. People think I am crazy for talking to dogs like they are humans, but I don't care," he said. The animals, they respond to him. 
During this interview Bafna was on his rounds feeding dogs.
Gunda —  an alpha male living in the area, was waiting for him.
Gunda is jealous and possessive and does not like Bafna petting any other dog. Gunda barked loudly and growled and snarled at another dog that Bafna was petting and brought an end to our conversation.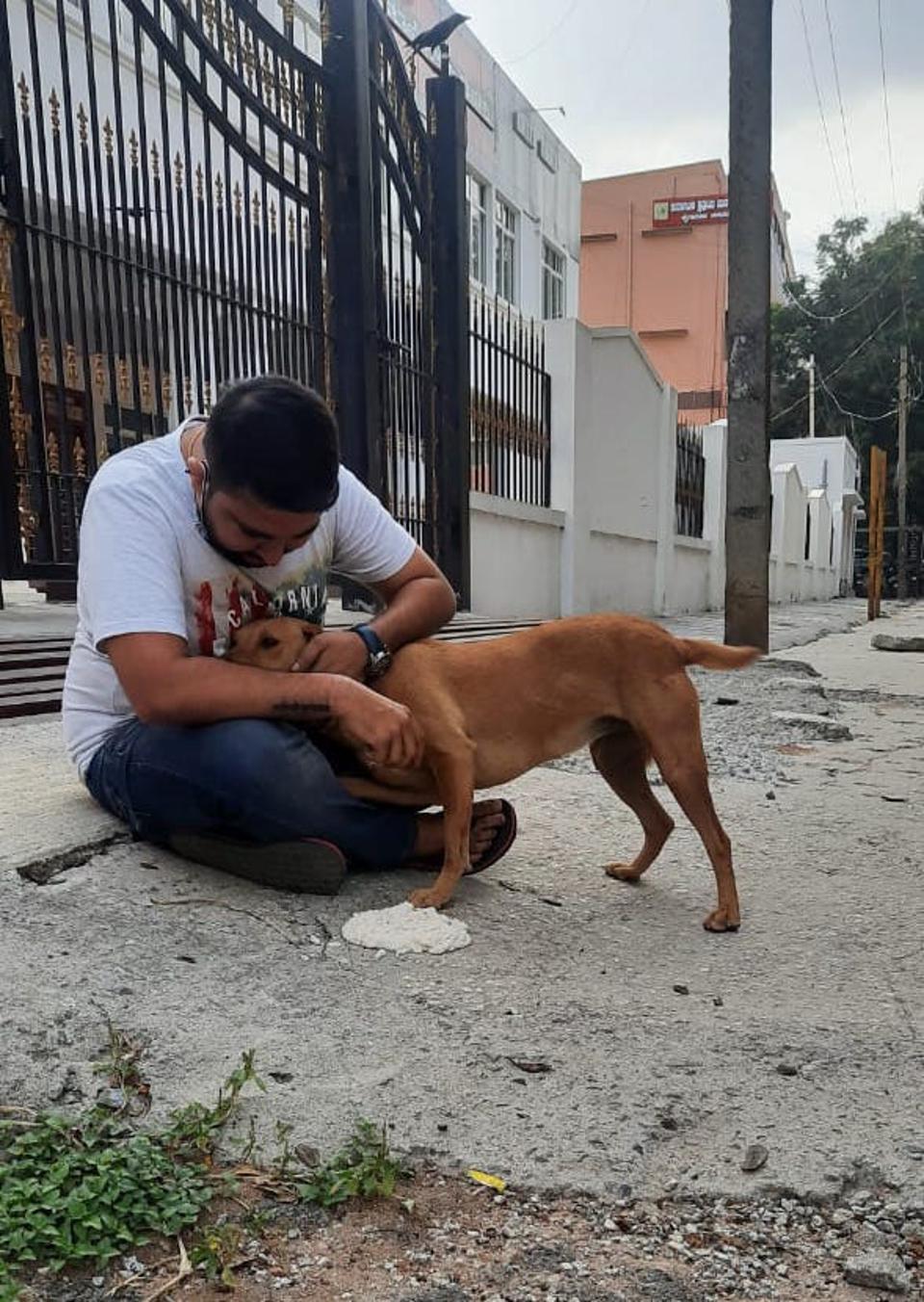 Bafna rescues dogs, cats, birds and snakes.
Dogs are his favourite and snakes are the most challenging. Sometimes it's a juggling act as snakes could harm his dogs.
On one occasion on his feeding rounds at the Palace Grounds, the dogs he was feeding started to bark insistently.
Bafna shone his flashlight around and saw a deadly Russel Viper. The dogs were alerting him to the danger.
Prepared for exigencies such as this, Bafna captured the snake, put it in a gunny sack and then drove all the way to Dasarahalli to release the snake amongst the trees so it would not be harmed. 
"The three most important things in animal rescue are location, location… and video!" Banfa said. He explained that when someone sees an injured animal they send him the location and a video of the animal.
He forwards the video to a vet while he or his assistant pick up the animal.
Meanwhile the vet by then tells them how to care for the animal - if it needs to be taken to the clinic or to a shelter.
Over the next few days Bafna assiduously follows up with the clinic on the animal's progress. Once the animal is better, he returns it to where he found it, "its residence", according to him. "I don't waste any time. If one dog can be taken off the hands of the clinic, they'll be able to care for the next animal waiting to be cured," he explained. Sometimes, Bafna has to deal with criminal cruelty. Such as the time when he was called to Shivajinagar. Someone had tied newborn puppies in a gunny sack and dumped them in the drain. Bafna jumped into the drain, fished out the gunny sack and rescued the puppies.
He tried to educate the people of the area not to harm other animals. Unfortunately his pleas were not heeded and another act of cruelty occurred a few weeks later. Bafna immediately gathered CCTV footage from the street camera and filed an FIR. 
While Bafna is for the most part a lone wolf, he doesn't believe that he is doing this task alone. He credits the BBMP and their Animal Birth Control (ABC) initiative to neuter dogs. Dogs once neutered come into the BBMP system (sort of like an Aadhar registration for our Streeties), can be cared for in case of any incident and also become less aggressive. 
With all his running all around town, luckily Bafna has a family that cares and supports him. Here's the kicker though — his wife, Khushbu, does not like dogs.
He claims he has done his best to convince her but he says she does not listen. "As long as you don't make me pet them, I don't care what you do", he said, quoting Khushbu. His six month old daughter, Divisha, takes after her father. She loves Husky, sleeps on him, pulls his tail, and Husky lets her.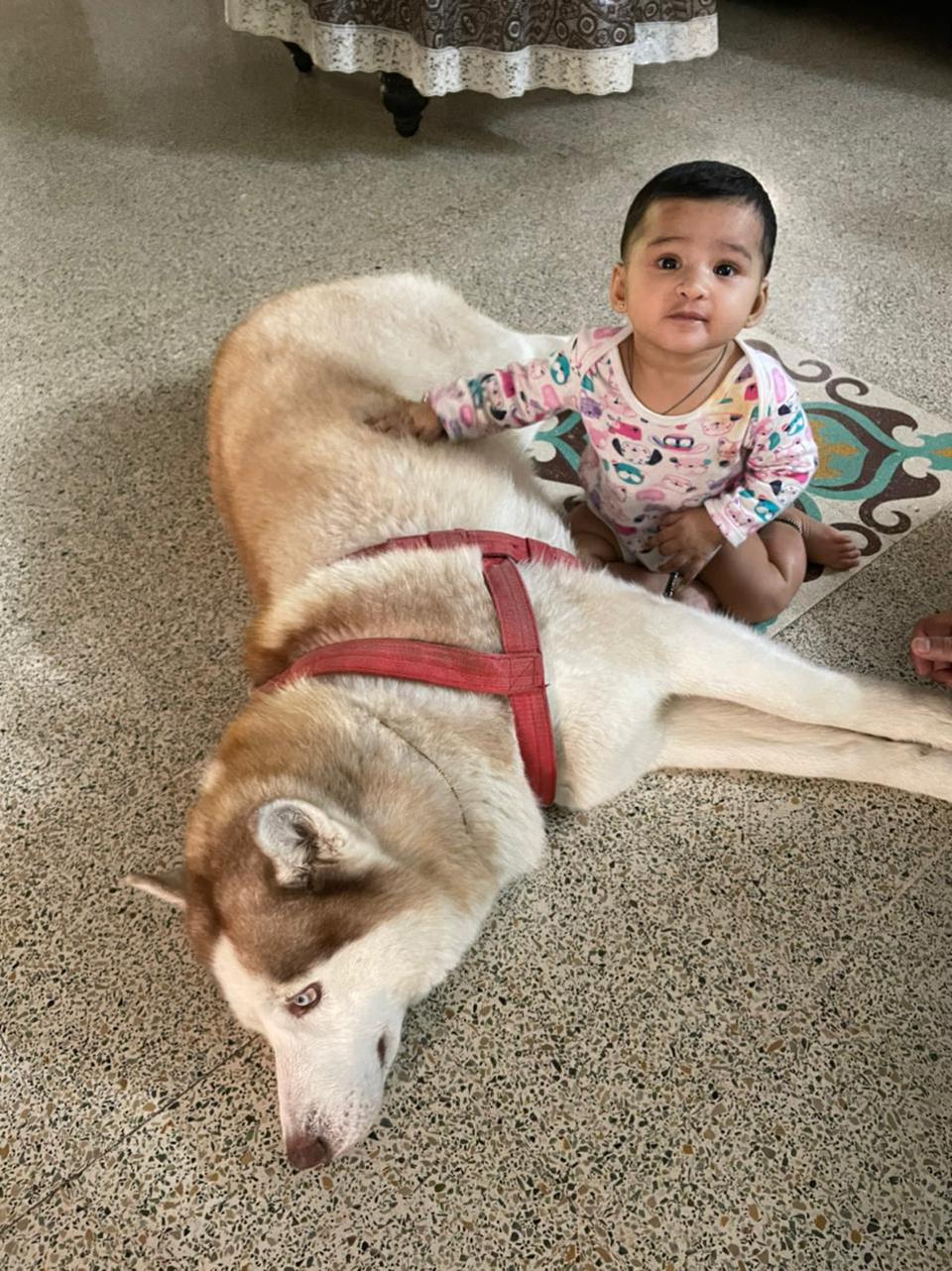 Bafna also believes that dogs deserve the respect we give any human. If a dog passes away he gives it a respectful burial and even practices some small rituals in the process. When he gets a traumatised dog he feels relief that he was able to care for it and help it heal. 
Bafna is happy and fulfilled but for one angst, and that is how humans ill treat animals "Sometimes I get very frustrated with humans and how they ill treat animals, but then I'm happy that I now have over 18 dogs of my own to love and care for."
Bafna is able to do what he does partly from the kindness of donors and partly because he earns a living helping out with the family business. He actively seeks small donations from the animal loving community around him. And while people respond and reach for their wallets when asked, Bafna needs much more to be more effective in his crusade.
He feeds 300 dogs a day and he has devoted his life and his money to the cause of the lives of helpless animals, trapped in an urban environment and dependent on sometimes kind but sometimes abusive humans.
So, on his behalf we ask our readers to help in any small way they can. Bafna believes you don't need to be rich to help. You just need to care. The donations are not much. 
Bafna says Rs 15 is all it takes to feed a dog a day. He doesn't believe in extravagance and even patronises clinics that charge Rs 2000 to save a dog as opposed to clinics that take around Rs 30,000.
"If one person can feed one animal, on one day, one time and tell one person that you know, we can spread the message forward." Bafna philosophised.
He admitted that it is a line he adapted from a Salman Khan movie. 
You can support him in any way, his UPI phone number is +918147620003 or by donating at this link: https://www.donatekart.com/FfAT/Help-Karnataka-Strays