At the entrance to Ulsoor Lake we heard a commotion caused by a brace of stray dogs chasing behind a man on a scooter.
They chased this particular scooter not the usual way that dogs chase scooters but with great joy, tails wagging, mouths smiling wide in happiness. Their ears looked like they were pinned back by the force of the air they displaced while running.
The scooter stopped inside the lake entrance. The rider popped open a large container filled with chicken and rice and started to feed generous scoops to the dogs. There was Blackie, Jessie, Jake and a few of their friends including one particularly mischievous and bright-eyed mutt called Raju.
Raju was named after the rider of the scooter, Raju PN.
Something about the expression on Raju's face (from now we refer to Raju, the human) was compelling. He bonded with the dogs. It was clear he felt their love. 
One of those Bangaloreans we admire for their commitment to a selfless cause, Raju finds his calling in sharing his life with stray dogs.
Every evening, Raju sets out from his home on Kamaraj Road and gets on his scooter. He carries with him a large vessel full of chicken and rice and a bag full of bones. He has cooked the 10 kgs of chicken and rice himself.
He carries this to a number of stops on his route and one of those is Ulsoor Lake, home to a number of strays. There are other places that Raju goes to, where the local dogs know him and receive him with delight. 
Raju's passion drives him to feed about 160 dogs every day.
"During the lockdown I was feeding over 400 dogs," he told me, "now that things have eased up, dogs are finding more food sources and I can pay attention to a larger area and find more strays to feed."
What drives his passion?
Raju explained that he had always carried around treats for stray dogs. Mainly biscuits that he fed random strays. And then things changed.
"Exactly one year ago," Raju explained, "in fact, on 23 Nov 2019, I lost my Sony. She was a St Bernard. She was the queen of Cubbon Park." He smiled, wistfully and sadly. When Sony passed on, something came over Raju. And that's when he took to feeding strays in her memory.
The policewomen in the post inside the lake are all his friends. They are also friends with all the dogs, who return their affection. The women gathered around Raju and spoke of how he was completely selfless. They expressed some anger at some people who sometimes show up and question Raju and asked him why he thought he needed to care for these dogs. One of the policewomen circled her forefinger at her temple to show that she thought they were stupid.
A large number of crows, pigeons and squirrels also showed up, cawing, cooing and chattering loudly. Raju went around the area giving them all food. One police woman pointed out a lone crow to Raju, sitting by itself on the railing. Raju went over and placed some food near it.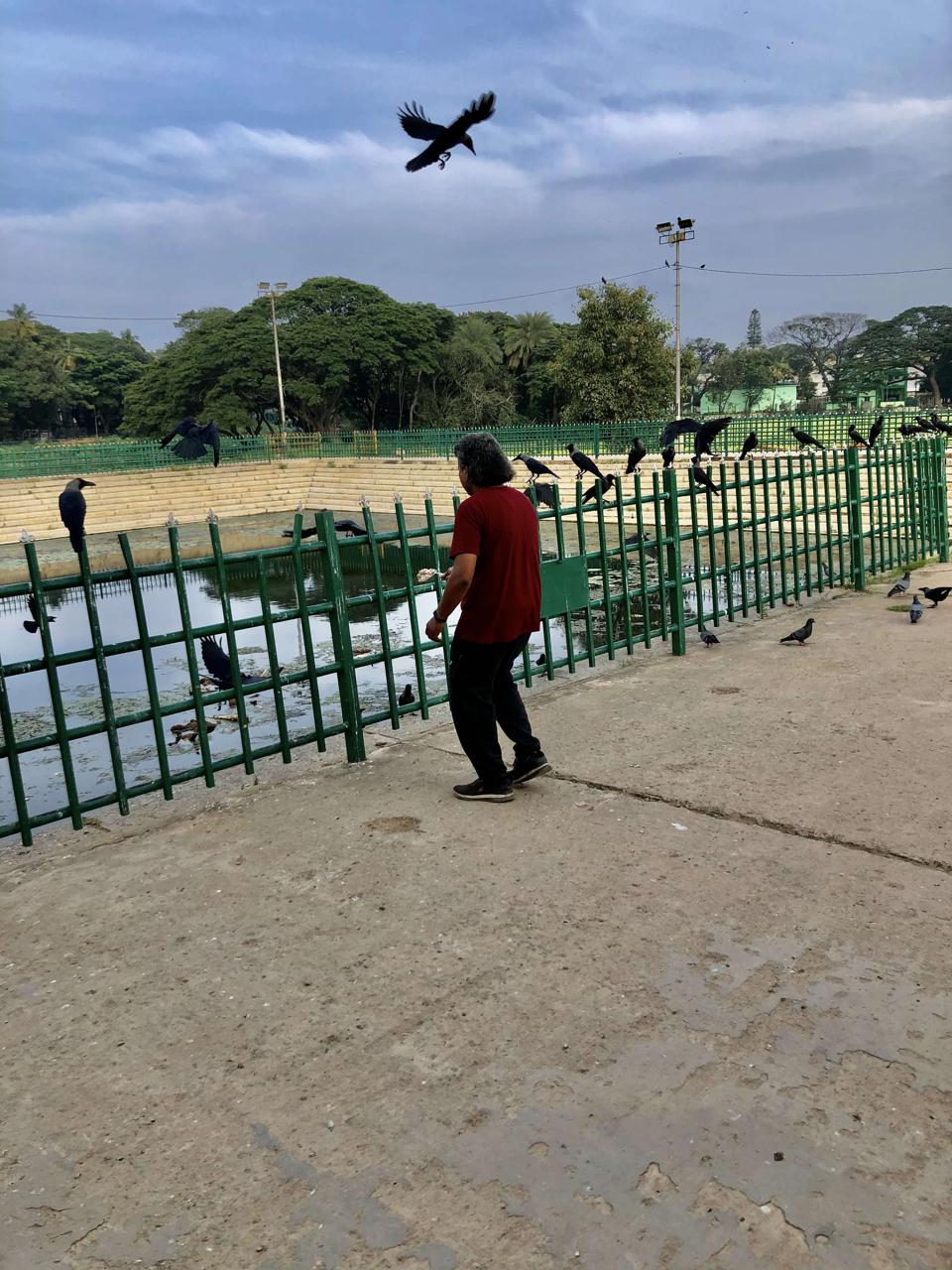 It was clear that all these creatures knew Raju. And he knew them right back.
That scene was a microcosm of life in harmony. Of dogs, birds, rodents and humans, some of them, police; and one human who wanted to share his love with them if only because he missed one of them. They spoke with each other in a language that was universal — nature's Esperanto if you like. You could sense the gratitude in the dogs and birds. A few dogs came up and thanked Raju — dogs stick their tongue in and out at you as a gesture of thanks.
There was no quarrel, no pushing and jostling, no scenes that even remotely looked like the United Nations relief efforts, where they fling packets of food at a devastated press of elbowing humans.
It was a routine non-event for all of them. Something that happens every day. But for me, it was a scene crafted by Disney or Pixar enough to all but cure me of my naturally-cultivated cynicism (ask any experienced journalist what I mean by that).
Raju got his helmet back on, ready to move on to his next stop, right across the street where a few more strays waited patiently for him. And then on to several more places in his daily radius.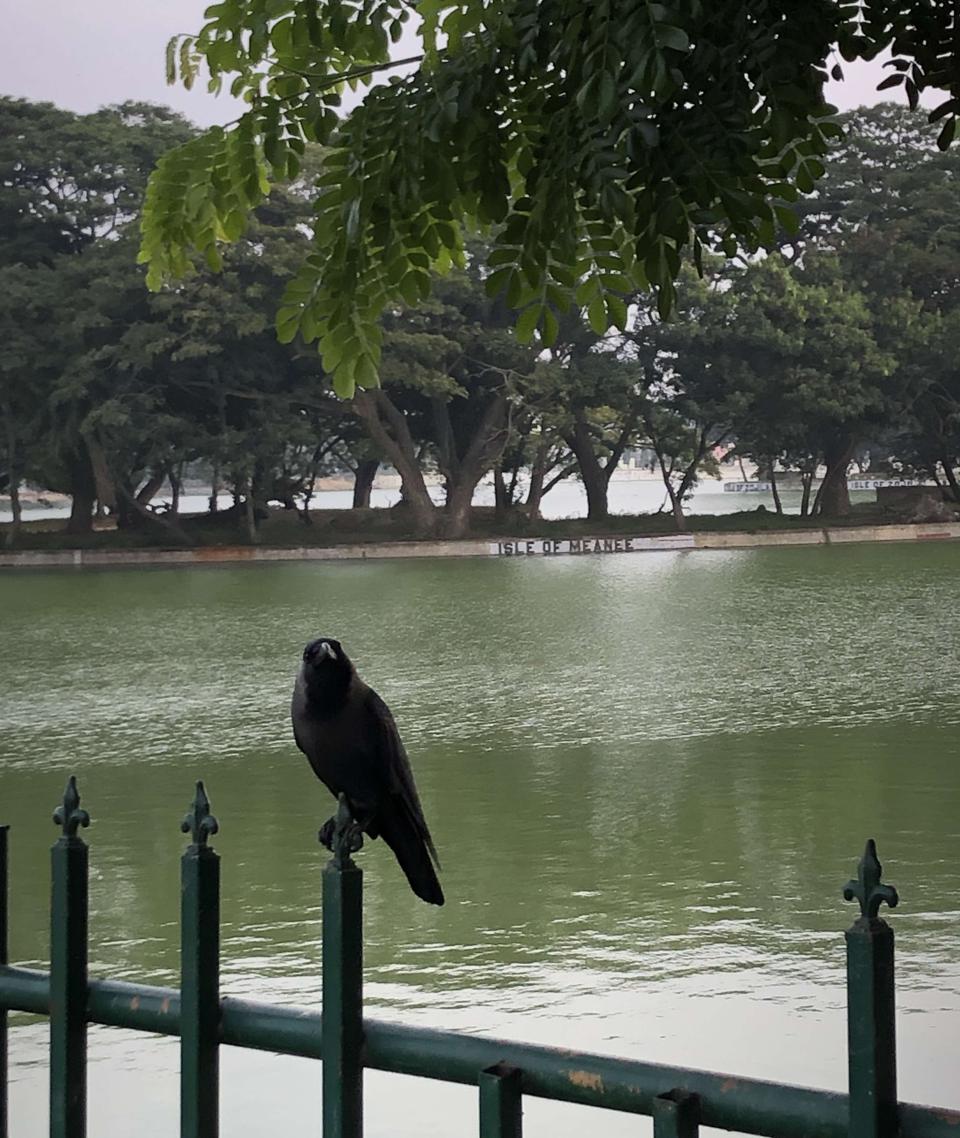 What did Raju want? Didn't he need anything? 
He said he wanted nothing from anyone. He said he was not looking for any assistance. When pressed, he did say he could use any help if it was offered, but if not, he did not care. Nothing would stop him from his daily crusade.
"I am pure vegetarian," he told me, "but I want take to care of all the street puppies. I was feeding them biscuits. I was feeding buns to squirrels and I have been doing this since eight years now. The day the lockdown began, I started cooking chicken and rice and fed more than 350  puppies."
He continued, "People ask how much I can feed. I will feed them until my last breath. God will give strength for me to do this. I have faith."