Café Jazz Sessions got off to a swinging start on a cool Friday evening at the Alliance Francaise. The new Director of Alliance Francaise Jean Cristian, originally from Madagascar where a lot of jazz happens, was ecstatic. Having taken over in the middle of the pandemic, with virtually no events happening and the café shut for reasons best known to them, Alliance Francaise had become culturally a 'dead' place.  
It was a cultural revival of sorts and the response was overwhelming to say the least. That jazz has seeped into our consciousness was also evident, despite the absence of a 'scene' in the city. Twenty five musicians -pianists, drummers, guitarists, vocalists, bassists congregated at the Alliance Café, a refreshingly unexplored space with surprisingly good acoustics and a café serving hot beverages and snacks. The hall was packed by six PM as Ramjee Chandran on guitar and Aman Mahajan on the grand piano set the right tone from the beginning, performing a tight set of jazz standards from Monk, Duke Jordan to an audience hungry for jazz. The duo ended their set with Jazz vocalist Radha Thomas joining them to perform interesting vocalese over a Chet solo in Autumn Leaves.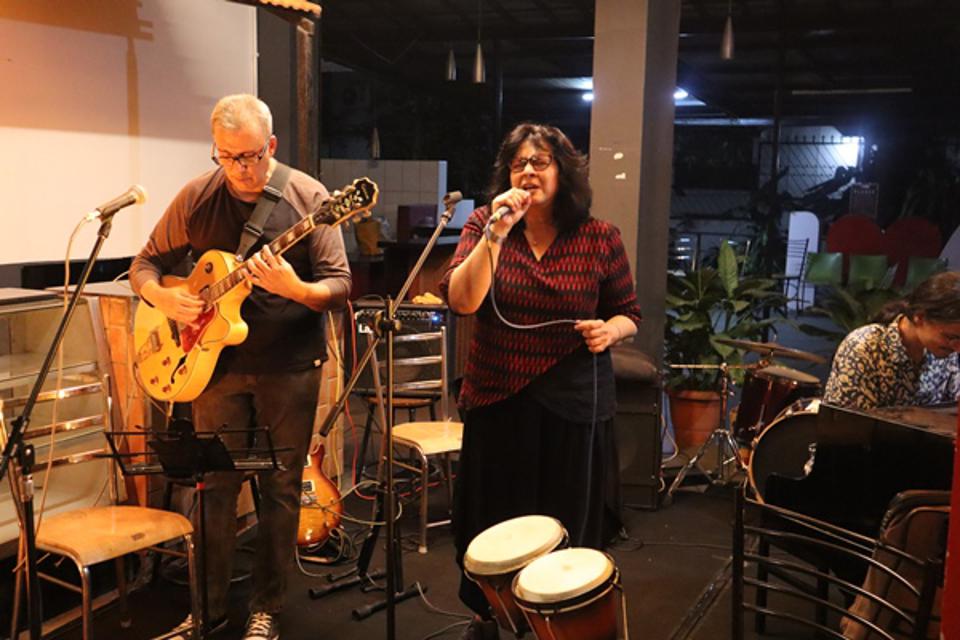 In an absolute act of spontaneity, so core to jazz,  trios and quartets quickly formed amongst the musicians who had registered  as guitarist Suvankar Ghosh performed Pastorius' Chicken accompanied by Lijo Thomas also on guitar, Joshua Lance on bass and Rohit on drums. Young student pianist Timothy Ragland performed Monk's Round Midnight with some interesting Indian classical elements added. 
Nazmus Sadiq Ahmed, more of a rock guitar player, did his version of Miles So What backed by Rohit and Joshua. Drummer Amit Mirchandani, having performed previously in the city's jazz circuit was happy to sit in for Cantaloupe Island with Aman, Jagadeesh and Joshua.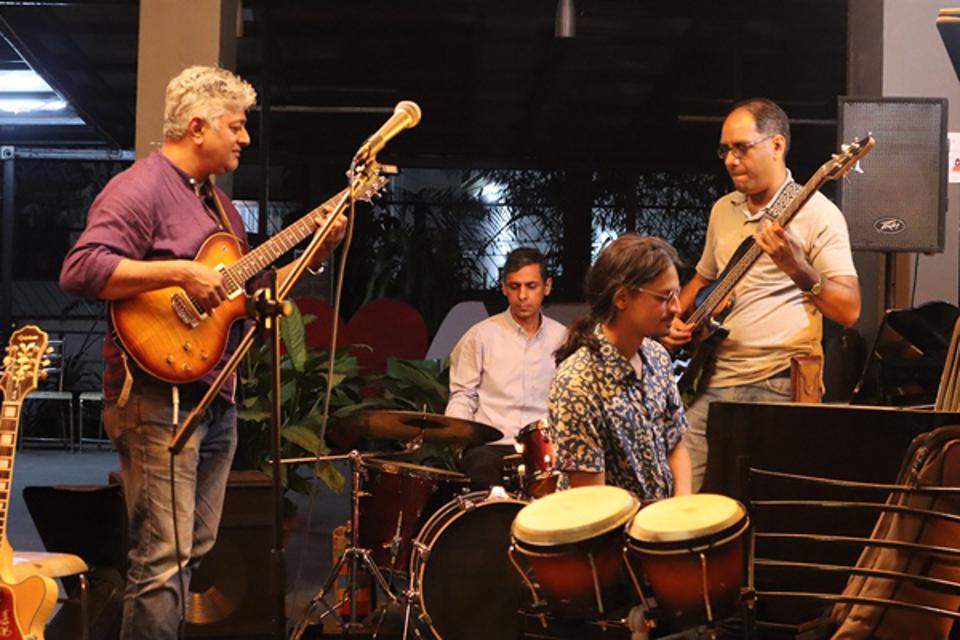 From jazz poetry by Langston Hughes to original narrative inspired by Maya Angelou, MoonArra with Madhuri Jagadeesh on vocals, Mythili Anantharaman on vocals, Timothy on piano, Rohit on drums, Nataraj Iyer on percussion, Joshua Lance on bass and Jagadeesh on guitar, performed its version of Hoagy Carmichael's Skylark and an original composition Trieste with movement specialist Rohini Rajshekaran.
 The evening saw more 'jams' happening with Haripriya on bass, Akshada Krishna and  Akash Sridhar on piano, drummers Rigil and Kiran taking turns and young student drummer Siddarth bringing a close to a fine evening and what could possibly  be hailed as the arrival of a 'live jazz scene'.  
The next session is scheduled for March 18 Friday at the Alliance Francaise and this time it could be a mix of some talk, a little workshop and more performances.