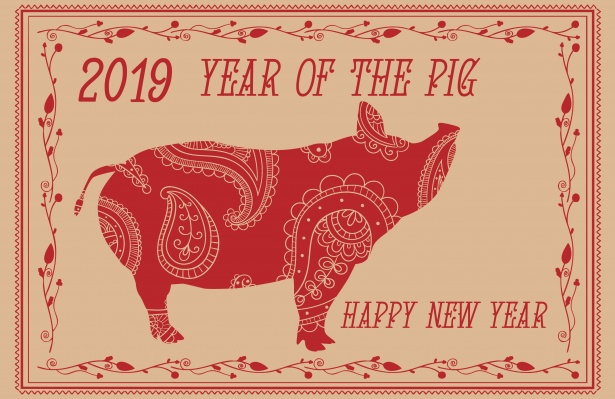 It's another New Year again. It is the Chinese New Year. And this year we're celebrating the Year of the Pig. And like every new year celebration, the resolution is out with the old and in with the new and conquering all evil with good, and...always...weight loss.
Legend and Wikipedia have it that Chinese New Year came about because of the mythical beast Nian. Nian would sneak into villages and torment the children. One night one of the village elders decided it was time to fight Nian. While the other villagers fled the village, Mr Old Man (as he'll be known) put up firecrackers and red paper all around. Nian never showed, but ran away into the mountains and was never again seen. From then on Chinese New Year is celebrated by defeating Nian with red decorations and firecrackers.  
The pig, in the five elements, represents water. Probably fitting for 2019 with rising water levels and global warming. Maybe we should believe Chinese philosophy and pay heed.
This festival is not just popular in China but now has a world presence. Everywhere people celebrate by sharing a meal of dumplings. Don't worry, that's not all. There is a whole menu of Chinese delicacies. And call it warped but there is pork on the menu too.
Chinese New Year 2019 is on 5 February, 2019. Many restaurants have New Year specials to celebrate Chinese New Year In Bangalore. They include:
Mainland China