THIS ARTICLE HAS BEEN UPDATED ON 19 MARCH 2020
Explocity speaks to celebrity physician Padma Shri Dr Ramana Rao to clarify the burning questions so many of us have about surviving the coronavirus or Covid-19 in Bangalore.
While the research of the virus, we trust, is in the hands of competent virologists and epidemiologists worldwide, we believe that most of us want to know the basics and avoid the world of misinformation about the coronavirus. There is no one better than one's physician to get us past the starting gate of proper advice. So we picked up a series of questions from various Bangaloreans about what's bugging them and asked Dr Ramana Rao to answer them.
There are several references to time in this article. These answers were provided to us on March 14, 2020.
(Explocity:) Is the flu season on now?
(Dr Rao:) We should be at the end of this season in another two to three weeks
Usually when I get the flu, I pop a couple of paracetamol tabs and let it run its course. Can I do the same now?
No. It is wise to see your family doctor for a check up.
How can I tell coronavirus from the flu? What are the main coronavirus symptoms I must look for?
Cough, pain in throat, fever, headache, body ache, fatigue, shortness of breath; some people may also complain of vomiting and diarrhoea.
I have a scratchy throat. Should I run and get tested at once?
No, there's no need to get tested at once. But please report this to your doctor and let your doctor decide.
At what point do I visit my doctor? When do I start to panic?
There's no need to panic. Consult your doctor if your symptoms seem to get worse.
How do I know if I have been exposed to coronavirus in a restaurant, airport or public place?
There is really no way to know for sure. You don't necessarily get the coronavirus merely because you have been to a public place. Your earliest symptom would be a cold. If the symptoms increase or get worse, then go to your doctor. Take it one logical step at a time and leave it to us medical professionals to advise you properly.
What should I do if there is someone in my apartment or office building who tested positive? Will I get Covid-19 from elevator buttons, doors, railings etc?
Yes. The point is that you get the coronavirus from touching infected respiratory droplets. So yes, the surfaces you mention, and also shaking hands, tabletops, or wherever people usually place their hands, are all sources to get the virus. 
Make a conscious effort not to touch these surfaces. If you don't have a choice, then make a conscious effort to avoid touching your eyes, nose and mouth etc. after touching them. Use a hand sanitizer immediately after. And then, the moment you can, please wash your hands (including your fingertips, thumbs and between your fingers) with soap for 20 seconds.
What are these "respiratory droplets"? Where are these droplets and how long does the coronavirus survive in these droplets?
Every time infected persons cough or sneeze, they spray droplets that contain coronavirus. This unknown entity can survive and infect others for up to 12 hours.
Must I walk around with a mask? And what sort of mask? And where do I get a coronavirus mask?
There is no need to wear a mask unless you are sick or infected. Only sick or infected people must wear a mask. The mask you need would be a triple-layer surgical N95 Mask from a  frontline health provider.
Can I travel? What precautions do I take?
Put off your travel plans for a couple of weeks.
Is it safe for me to get physically intimate with someone who has a cold or complains of headache? Can I at least hold hands with them?
If one of you is sick, any touching is taboo. Keep a distance of one metre (about three feet).
Is it safe to have sex if my partner and I wear masks?
If all the partners involved are healthy, there is no need for restrictions such as masks.
Where in Bangalore can I get tested?
Only at the Rajiv Gandhi Institute Of Chest Diseases. https://goo.gl/maps/DcNRPs7EntbRthLX9)
***UPDATE: Please scroll below for an updated list of testing and treatment centres.***
They say the flu takes about a week to go away. How long for the coronavirus to leave me? Can I ever get cured?
About the same. One week. Only your immunity is your defence.
Doctor, what else do I need to know?
Don't get worried but be smart and take precautions. Maintaining a safe personal distance from others and washing your hands is all it takes to beat coronavirus.
TESTING CENTRES FOR COVID 19 IN BANGALORE
Bangalore Medical College & Research Institute, Victoria Hospital, Microbiology Department. +91 80 2670-5435
MAP: Victoria Hospital: https://goo.gl/maps/oTx4crZ4Sd6F41yC7)
National Institute of Virology, Field Unit, Jayanagar +91 80 2665 4084
MAP: National Institute of Virology, https://goo.gl/maps/9QYo3yAWqgv8XVtp8)
HOSPITALS TREATING COVID 19 IN BANGALORE
Rajiv Gandhi Institute of Chest Diseases, Hombegowda Nagar +91 80 2608 8500
MAP: Rajiv Gandhi Institute Of Chest Diseases. https://goo.gl/maps/DcNRPs7EntbRthLX9)
Manipal Hospital, Old Airport Road +91 80 2521 1200
MAP: Manipal Hospital: https://g.page/manipal-hospital-oldairportroad?share
Narayana Health City, Bommasandra +91 80 6750 6870
MAP: Narayana Health City: https://g.page/Health-City-Bangalore?share
Fortis Hospital, Bannerghata +91 80 6621 4444
MAP: Fortis Hospital: https://goo.gl/maps/gfoCm7Bvwm1LuxU2A
About Dr Ramana Rao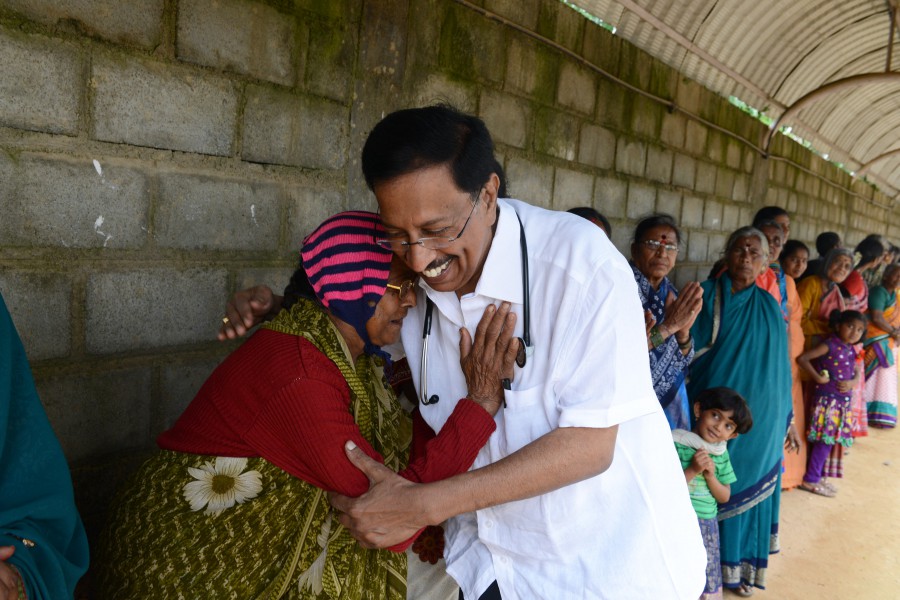 A physician who counts some of the most important Bangaloreans in his list of patients, Dr Rao is also an altruist who spends his Sundays treating underprivileged people in a village near Bangalore, an effort that earned him one of India's highest national honours, the Padma Shri.
CONNECTED READING
How to make hand sanitizer at home and not get gouged by opportunists: https://explo.in/corona-santize
THE PSYCHOLOGICAL IMPACT OF CORONAVIRUS ON CHILDREN AND FAMILIES: https://explo.in/corona-psych-impact