On the afternoon of Saturday, May 27, 2023, the verdant Milton Street Park in Cooke Town saw a group of residents turned out in battle fatigues, ready to find out how to defend themselves against attack. (Ok, not battle fatigues, gym clothes, but their minds were certainly dressed for battle.)
The event was a demonstration (and some hands-on practicals) on how to defend oneself when being attacked on the street and how to take evasive action in a way that was most effective.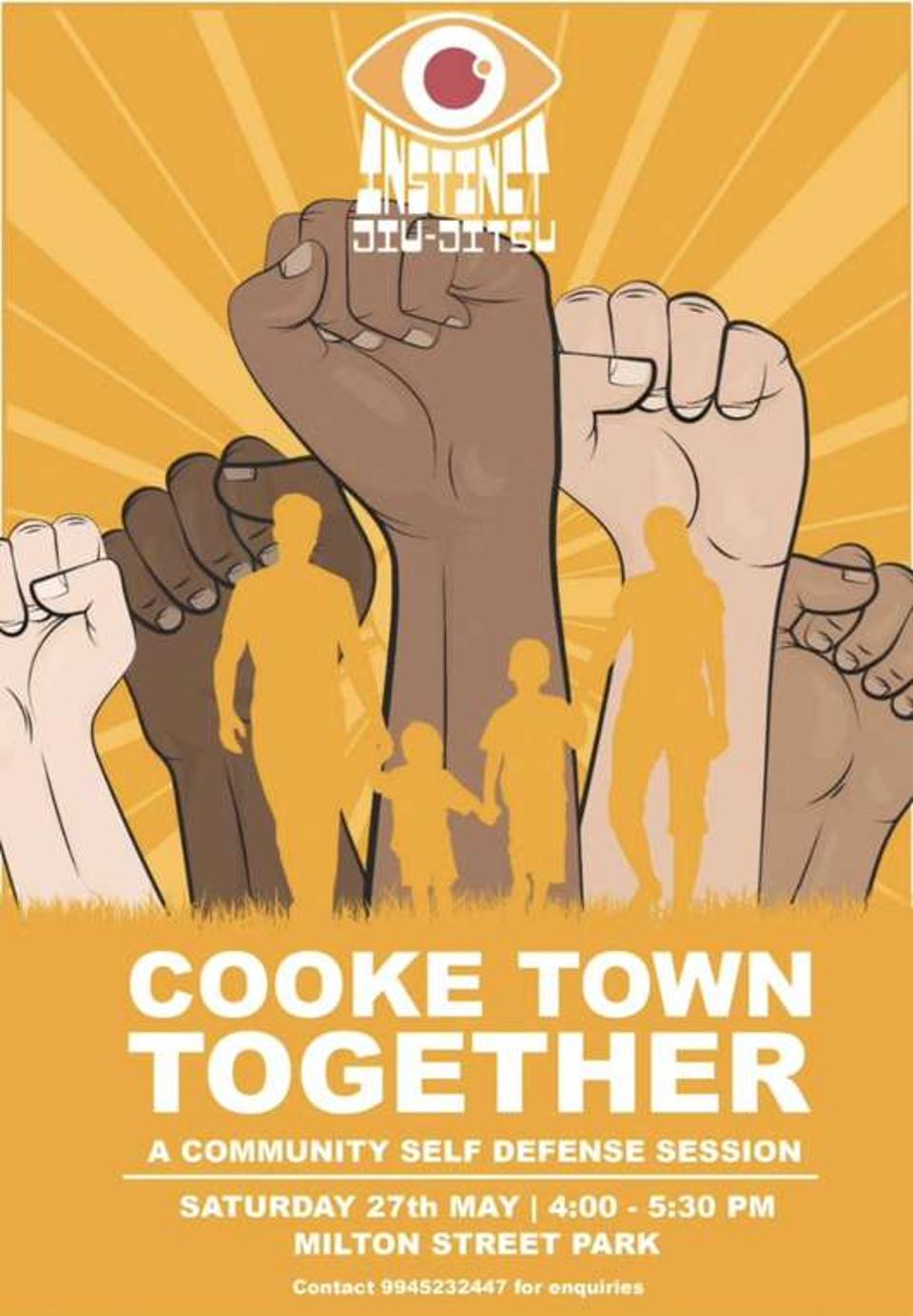 The sylvan and peaceful Cooke Town has recently been the target of a number of cell phone snatching incidents. More recently, there was a chilling episode where a few thugs walked around openly with choppers in the daylight, at 5pm, and attacked a couple near the ITC factory. Towards the end of the brief episode, a couple of workers in the area tried to corner one of the thugs, but he escaped in an autorickshaw. 
Immediately after, a group of residents approached the Fraser Town PS (who have jurisdiction over Cooke Town), with some blurry security camera footage. We understand that the thugs have been arrested.
But that would be little comfort to someone when they are confronted with an attack. 
So, a Cooke Town resident, Farah Merchant who is active in the community—and runs a happening group that we understand to be a great resource for mothers in the area—organised this session so residents can get even the basic idea of what to do in a stressful situation.
Speaking to Explocity, Merchant said, "A lady got robbed by three guys with knives. So we put this event together. It is not about martial arts but prevention. How to mentally and psychologically prepare for something like this. The Jiu-Jitsu team showed us that it takes only 5-7 moves to stay safe. Everyone who came had at least one takeaway. Think of how useful this is for seniors, who cannot run away easily!"
The sensei of the event, one might say, was Joshua Quadros, who runs a Jiu-Jitsu dojo in Banaswadi. Quadros is a blue belt in the martial art. He is also a photographer, filmmaker and writer. Also leading the demo was one of his collaborators, John Fernandez.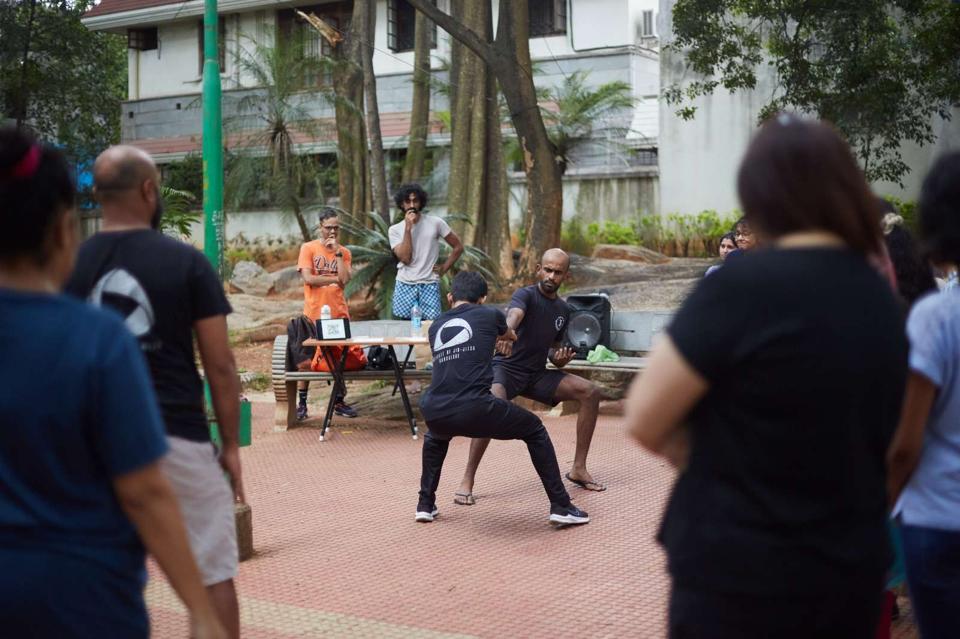 The nub of their demonstration—in which they encouraged residents to take part and try out some of their techniques—was to explain that since everyone could not become ace fighters without years of training, they would teach everyone how to take evasive action. For over a couple of hours the duo, accompanied by several of their students, went over techniques that included feint, keeping the attacker at arm's length, using body weight and balance and above all, how to get the hell away from the attack.
They also went over some practical advice that included things that people don't think about—such as using your cellphone on the side away from the traffic, so you are less likely to be a target for snatchers on a bike. And of course, the more practical question that drew a nervous giggle from the audience: why use your cellphone on the street?!
Watch a video of the demo here:
Explocity's Pranati Madhav spoke with Joshua Quadros about his outreach program.
Explocity: You are a trained exponent of jiu-jitsu. Do you have a belt of colour, like the karate people do?
Joshua Quadros: I am a blue belt under Rohit Vasudevan. (He is the Jiu-Jitsu guy in Bangalore.) Belts work based on the instructor and where he thinks you are. Belts don't matter. We leave it out of the conversation because it's more about the learning. There are different levels within a belt so we are in the higher level of Blue Belt.
Accompanying you in the session was John Fernandez. Who's he?
John trains with us at the Institute of Jiu-Jitsu. He's active in Cooke Town. He's a Blue Belt too. 
Where is your dojo?
It's called Instinct Jiu-Jitsu in Banaswadi. Nihaal Joseph and I run it together. 
Do you plan to take this outreach all over Bangalore?
We do general workshops that are open to the public at our space. We're a new gym, open for about eight months now. We're more of a club actually and do sessions thrice a week. But we cover the fundamentals for people to get an idea of what Jiu-Jitsu is about.
So will these classes help people ward off the bad guys?
Unrealistic to expect that a few classes will help. Prevention is better. Avoid the fight at all costs. You can't overpower someone and render them unconscious. But, how to flee the situation and stay safe? So we want to help with problem-solving, and equip the community to take care of itself. 
How?
There are unique ways to avoid the problem. Start building a web of safety in the community. Smile at a passerby you see regularly, talk to watchmen, befriend street dogs. They could come to your rescue. 
What's in it for you? More students? Or are you just being a good egg?
I've lived in Cooke Town for 22 years. I grew up on Hutchins Road with my parents. As kids we roamed freely. I want me and my people to walk around freely. People shouldn't be scared to go out and cooped up. Go out… have tea with a friend, walk with a friend without worry.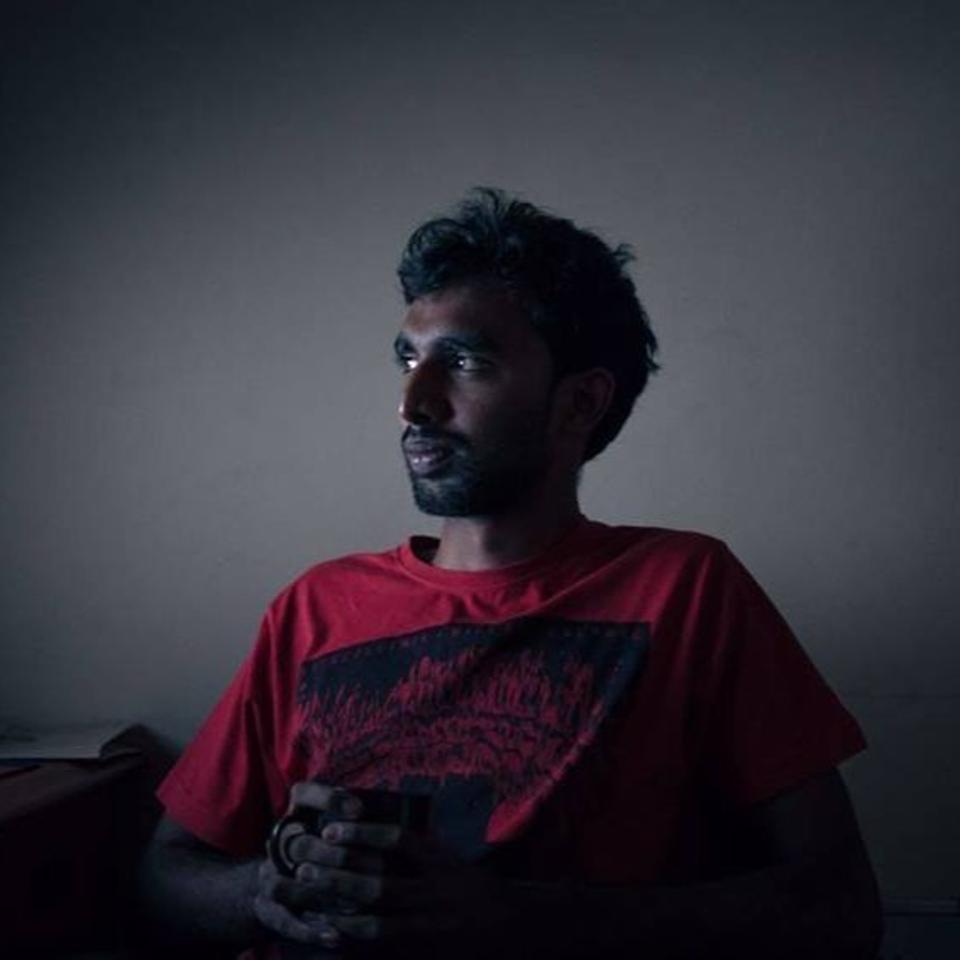 Does Jiu-Jitsu help you walk without a worry?
Jiu-Jitsu, more than anything, gave me confidence. I grew up a skinny kid but I have taken on guys much bigger than me in training. 
How is Jiu-Jitsu different from other martial arts?
Jiu-Jitsu is a grappling-based martial art. We focus on grabbing, joint manipulation and strangling. From a self-defense aspect, we include striking but the art is in how to do it safely. The thing is that punching needs a fist. But the bones in the hand are ridiculously weak. This is why you see boxers taping up their knuckles. In Jiu-Jitsu, open-arm punches are common to get safely out of a fight. 
Ok, let's say you were attacked by a bunch of people with weapons, what would you choose? Fight or Flight?
Flight. Bunch of people and weapons? Definitely flight.
What about one dude with a knife?
Again, flight. One person and weapon, flight. More than one person, flight. It's a nuanced question because it depends on the person. It's more about controlling the person and subduing the person, not being the aggressor. The point is to turn down the heat, not make it more violent. 
Explain?
With trying to fight, you have everything to lose and nothing to gain. Charging at them puts them on the defensive and then they'll use the knife. As I said before, your neighbourhood is important. Flee! Use a compound to jump into, befriend a watchman. It's not about violence. It's about using your intelligence in the situation. 
Back to the bad ones, do you suppose these cell phone snatchers are trained in any form of fighting? 
No. I think they come with very rough intentions. They've probably been in street fights and violent situations. Think about a normal person doing this, no one would. But this is my take, [I have] no idea of their history but I get the sense that they aren't trained in any martial arts. 
Would they stand and fight someone?
They just want something from you. When you retaliate, they retaliate. Their intention is not to harm, but to intimidate. Faced with this situation, first, understand their intention. "I want the phone and if you don't give it to me, I'll stab you." It's more of intimidation. It is probably a sad means of money for them. But I don't think they want to stand and fight. 
After all this, where does this sensitive side of you take over and deliver those wonderful pics I see on your Insta?
I think I'm the same person. Jiu-Jitsu looks violent but I got into it for the elegance of the art. The best Jiu-Jitsu guys look like dancers. Like dancing with a partner who doesn't want to dance with you. Judo follows the same dance footwork. I guess that's the "arts" in "martial arts". So photography and Jiu-Jitsu sync up. 
We asked Farah Merchant if she was satisfied with the event and the response from residents.
"Extremely," she said, "I know more people were talking about coming. More people will show up. The awareness was across age groups, it was a fabulous session."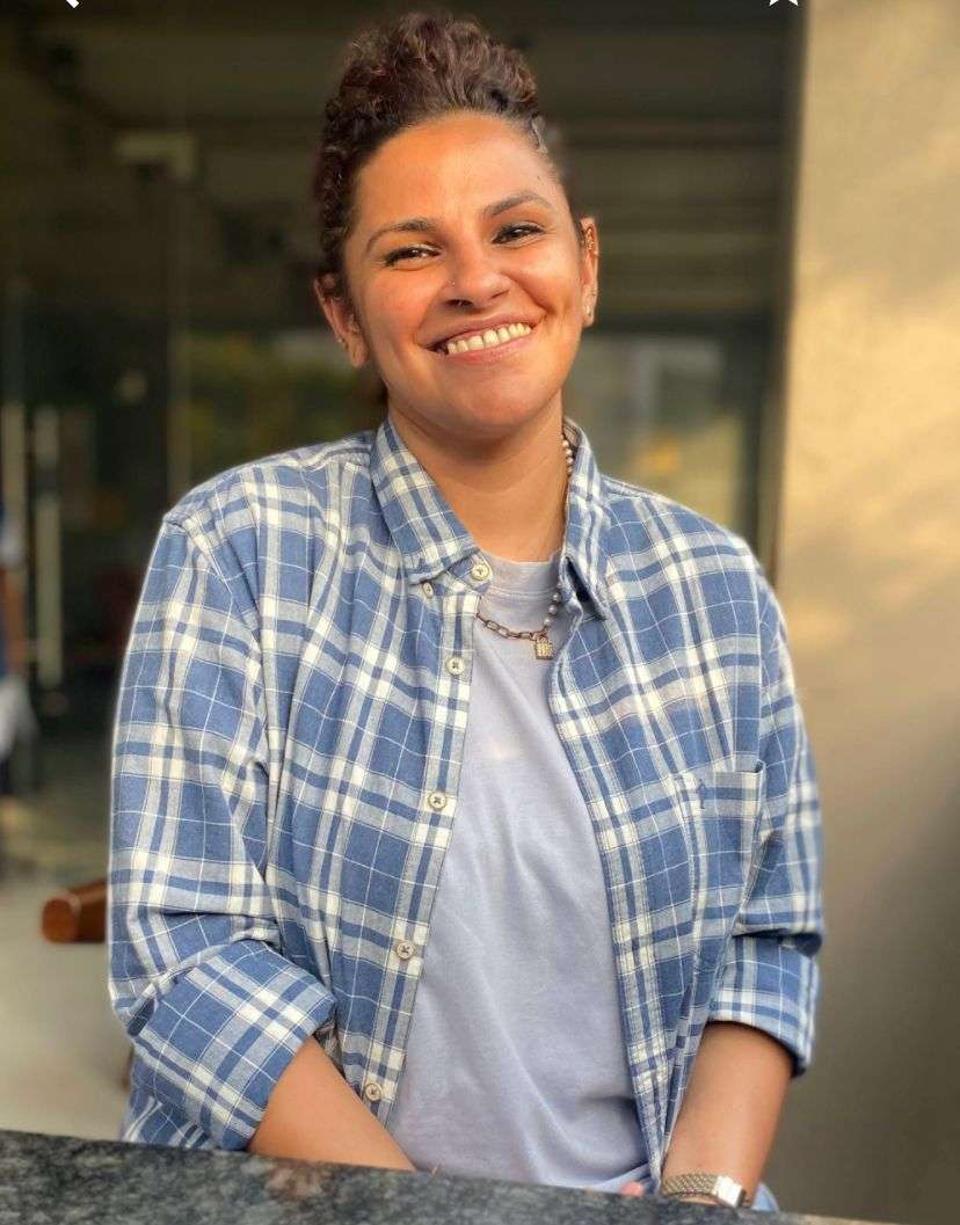 We asked Merchant if she was planning to organise more such sessions soon. She was enthusiastic in her response. "Yes, definitely. We've talked about two more sessions–one for the community residents and the other one for security guards and shop employees."
A former corporate leadership trainer, Farah Merchant has cobbled together a group of 400 mothers in Cooke Town, facilitating play dates, and treasure hunts and sharing resources on medical and parenting issues. She is also organising a flea market on Sunday, 28 May 2023 at Airlines Hotel, totally featuring the work of children of Cooke Town.