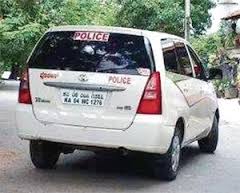 A real-estate agent was using a Innova with tinted windows, a "Police" sticker and claimed to be an IB official.
An alert citizen, clicked the picture of the car parked near Vijaynagar Circle, posted it on Bangalore Traffic Police's FB page. The citizen, Sai Manju, criticised the police for taking no action against cars using tinted glass.
The car's registration was clearly visible in the photo. The police tracked down the owner and arrested him for using the car. They discovered that the car belonged to a businessman Chinappa and was being used by his relative, Venkatesh, a real-estate agent. Police also arrested the driver of the car, Lokesh. After interrogation they found an expired ID card issued by the ministry of home affairs.
The police learnt that Venkatesh has been posing as an intelligence bureau officer. The duo were booked for impersonation.
The police are still trying to find out how he got hold of the ID card.
Source: DNA
Pic Source: Bangalore Mirror