Raahi, Neo Kitchen and Bar, the new kid on Bangalore's central block is ultra modern meets vintage. It's "fusion food" but they seem to have got it right.
Located on St. Marks road, right above the Nexa showroom, my colleague and I walk right into the bar. It is adorned with three massive chandeliers on one side and an elaborate, carpeted, central seating area on the other. The seating and decor rock an old-world charm; intimate spaces mixed with a contemporary semi-outdoor area. You know, like a hip library.
At first, we were miffed. We were there to review the restaurant - experience it -  and we were seated on bar stools away from the happening central area. (We learned later that it had been blocked off for a private party.) But a smart and attentive waiter caught us pouting and brought us our welcome amuse bouche and drink - Paan Kombucha and Ragi Crisps. Amuse, they did.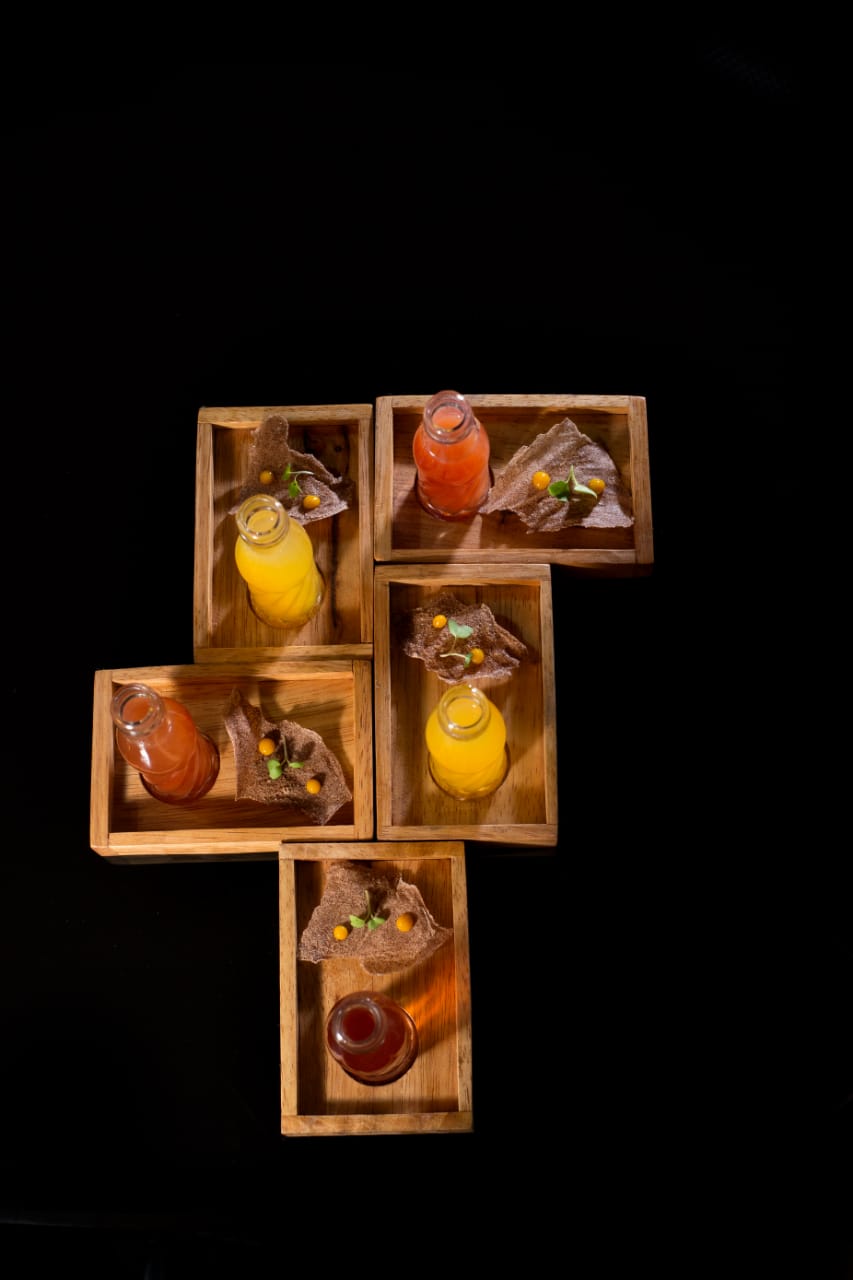 He then suggested we try the signature cocktails. The theme of Raahi's cocktails  is based on the five elements - earth, fire, wind, water and ether. Santosh, the manager, told us that these elements inspire the choice of ingredients in each drink. Even the garnishes represent those elements -- spices represent fire, foam represents air and then we got caught up in the cocktails and did not listen to what the other elements were supposed to be perpetrating. We ordered Huti from the fire group, a blend of the dark intense Bacardi black, the golden ocho, red wine reduction and lemon juice topped with homemade ginger bubbles and flaming ginger candy and Sheel from water, a cool gin based cocktail combined with kaffir lime kombucha and cucumber extract garnished with basil head and cucumber ribbon. I had Sapid from the bar menu, a contemporary take on the Bloody Mary, tequila based and served in a glass frosted with cheddar dust. You see? You cannot fault us for not paying attention.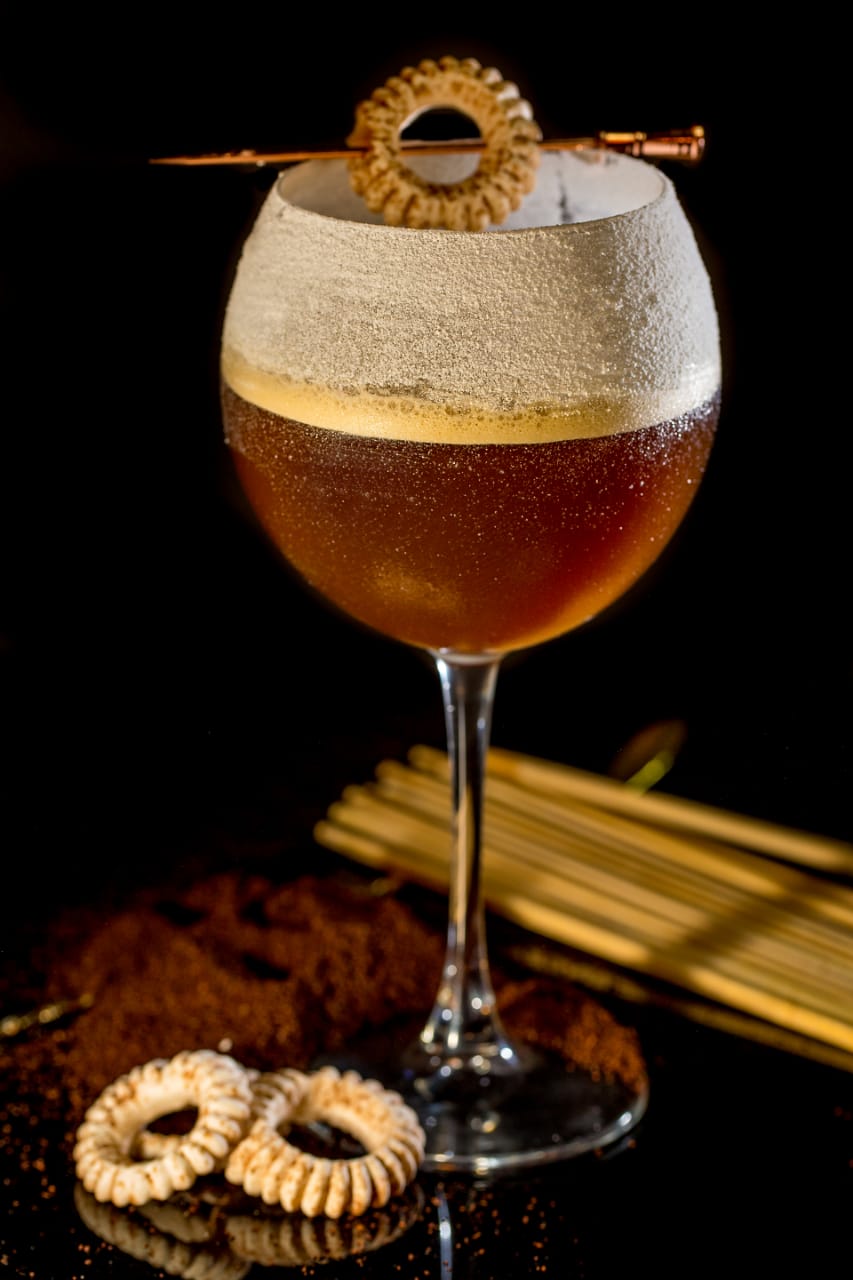 The food menu features small plates, entrees, large plates and desserts all modern renditions on Indian regional cuisine from South and Northeast India, Kashmir, the Konkan coast, Parsi and Mughlai fare alike. We were having a great time. We ordered the Beef Roast Pazham Podi, the Peri Peri Chicken Tikka and the Roasted Paneer Barrels with Khoya Crisps and that's only for starters. For the main course, there was the Chicken Thukpa (Ramen) and Shrimp Curry accompanied with Sannas. The restaurant's mixologists and chefs together source local ingredients unique to its territory, seasonal fruits and syrups and use them efficiently in the menu. "Go seasonal, Go regional" is their mantra. We wonder if they tell each other this in weekly meetings.
Navigating the foody waters is the captain of this ship, Akash Tyagi. Tyagi is all of 26,  but already he has a forte - which lies in using native ingredients with international techniques. Tyagi began his culinary journey in Delhi and in a short span worked his chef's knife in Mumbai and Abu Dhabi. He also worked with celebrity chef Kunal Kapur. 
The crew complements his efforts with quick, efficient and friendly service. The traits they look for "...right at the recruitment level - enthusiastic and visionary personnel with sound knowledge, positive attitude and good interpersonal skills who love what they do. The rest is achieved with rigorous training and experience."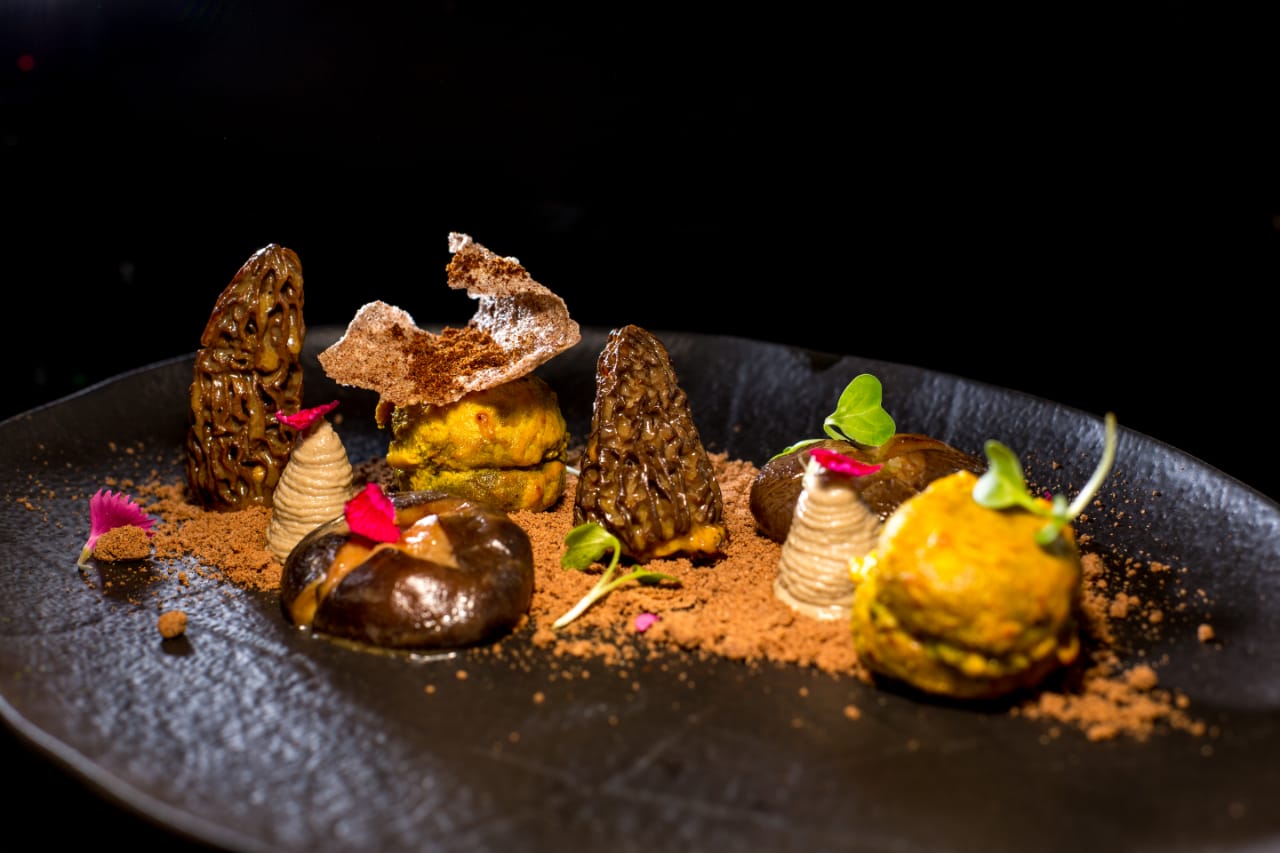 At least that's what we think they said. It's hard to pay attention to corporate yadda yadda (leave alone take notes) when you are in the thrall of Roasted Paneer Barrels with Khoya Crisps.
Others too were having a great time in the restaurant. One rambunctious child peeled away from a particularly boisterous group and waddled over to the stricken DJ and robbed him of his coolth. They were louder than us, so we left. We missed the desserts. No matter; by then we had already notched up five stars for this eatery. The price for a full meal for two at Raahi can cost anywhere between Rs.1500 and Rs 2000.