Of all the frontline responder professionals (for whom we are being exhorted to dent our stainless steel pots on Sunday), not many are aware of the dangers of being a Bangalore police officer  in a time of pandemic and social distancing.
While medical professionals have the knowledge to deal with patients, cops have often to deal in a physical way with people who might not be "cooperative patients".
Explocity speaks to Bangalore Police Commissioner Bhaskar Rao about what he and his department have to deal with. 
From the reception to the commissioner's office, there was a palpable air of caution. Police personnel wear masks and there are hand sanitizers everywhere in the clean, well designed offices. What was evident is a sense of purpose rather than panic. What was also evident was that this sense of order was stemming from the top.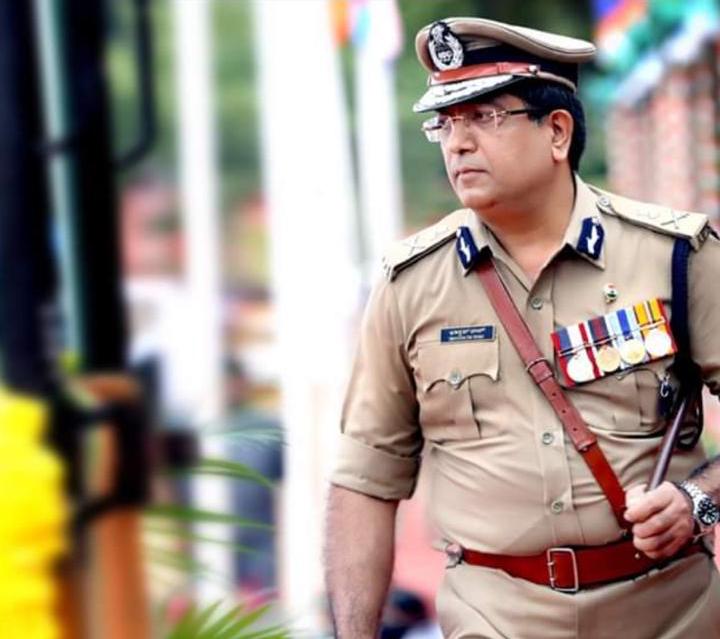 In this exclusive interview with Bangalore Explocity, Commissioner Rao touches on a range of topics to deal with the current situation. His overarching advice was that people should stay in as much as they can.
Your force is constantly publicly exposed. What preventive steps is the police taking? Who is protecting the police that is a public-facing agency?
Yes we are publicly exposed. For protection, we have face masks as part of the uniform and hand sanitizers and of course, training.
But a lot of responsibility is entrusted to us because in the case of the police, action must be quick, if not immediate. Then there are a lot of cases where our people are in very high risk areas like the International airport, and while transiting people from international airport to quarantine centres and at the quarantine centres and at select testing centres and at the Rajiv Gandhi Institute where all the people who are undergoing treatment are there. 
I have asked everyone to be very, very careful and constantly wash hands. So every police station is cleaned up with dettol and alcohol based solutions. We carry out all the correct coronavirus guidelines of the government and our own crime.
When confronting criminals or forcibly enforcing the law, contact is inevitable. Are your officers not worried about contact with infected individuals?
Yes, of course. As and when work demands we are going to be as professional as possible overseeing the situation. And we are accustomed to crises, to us this is one more crisis but a huge one. The bigger the crisis, the government and the state need us to rise to the occasion.  
But in a pandemic, let's be clear that the real criminals are the ones hiding their disease. To be clear, they are liable to be prosecuted under the law, with specific reference to the Epidemic Act. 
Are you going to be more lenient on petty crimes and misdemeanours such as parking violations and two-wheeler spot checks?
No leniency. 
How will you administer breathalyser tests?
Breathalyser tests are still being carried out with a lot of protection. There are replaceable kits and police personnel are wearing gloves. If I make a blanket ban of breathalyser it'll lead to a lot of drunken driving. Everyday, I'm booking close to 1,000 cases a day, 1,200 cases on weekends. Over 2200 (motorists) would have consumed alcohol but did not rise to the level which is prosecutable. Howsoever you appeal to people, they think they can find a way of escaping the laws. I have to be tough. 
Have any police tested positive for coronavirus?
No thankfully. And we are doing all effort to see that our people keep and maintain good health 
There are reports of foreigners being harassed by groups of people who shout, "Coronavirus, coronavirus" at them. In one case, the organiser of a cultural event in Kerala started hitting a woman because she looked like a foreigner. Who can they call for immediate help?
First, we do not tolerate any harassment. Call us on 100 or 104. We will respond at once.
But see, when the whole government machinery has told all of us to remain indoors it is better to remain indoors rather than participate in any cultural programs. This holds good for citizens as well as foreigners. So there is mob mentality of course, in the rush to contain but prevention is better than cure. The police cannot go to every nook and corner to do public education at this point of time. 
I would like to bring to light the problem we have with the upper end of society. Many celebrities, high-society people, that is the well-heeled, are the ones who have been bringing this virus from abroad. On arrival, they should subject themselves to test and quarantine. Instead they hold parties, they meet other celebrities. This is extremely condemnable. Please remember, they too are also liable to be prosecuted under the law, which results in six years' imprisonment. 
What precautions should people take at home against crime? People forcing entry by pretending to be govt officials. 
They should demand to see identity cards. And if in doubt, please call 100 or 104, our emergency response vehicle will immediately be at your doorstep. 
Can the public approach the police if they are being subject to price gouging and other fraudulent, opportunistic activities
Please bring it to our notice. In fact yesterday, I conducted a press meet after we seized fake hand sanitizer with false ingredients and artificial colouring and (vague) things added that make a mockery of the entire thing. Please approach us. We are on social media on Twitter, Facebook, Insta and Tik Tok. Please tell us what's going on around you. We are very responsive, our emergency response vehicles will deal with your complaint.
Is it a crime to walk around in public after being tested positive for the virus? Is it still a crime if one does not know they are carrying the virus?
If you are tested positive, you are quarantined and in the hospital. There is no question of your walking around. But if you are, of course it is a crime. If you claim to not know that you are positive, the ignorance of law is no excuse, but if people honestly don't know they have the virus, then what can anyone do. 
The Prime Minister said the Sunday self-isolation movement is voluntary. There is talk of groups of people who want to enforce this on the streets. What would be the police response to such vigilantism?
In this country, either you say "do it" or "don't do it". The PM was being gracious to use the word "voluntary" meaning it should fall to the people to know that they want to be safe, they should want their neighbour also to be safe. To vigilantism, there is no need for them. The police will do their job, no need for the public. And this includes the job of stopping vigilantes. 
What general advice does the Police Commissioner have for Bangalore?
To avoid things like hate crimes I urge our public to show concern for senior citizens, uncles and aunts and be sympathetic and be good to people instead of condemning them or humiliating people. Senior citizens should also rise to the occasion and take proper care of themselves. And yes, please volunteer to do nothing and practice distancing. 
Remember, divided we live (smiles).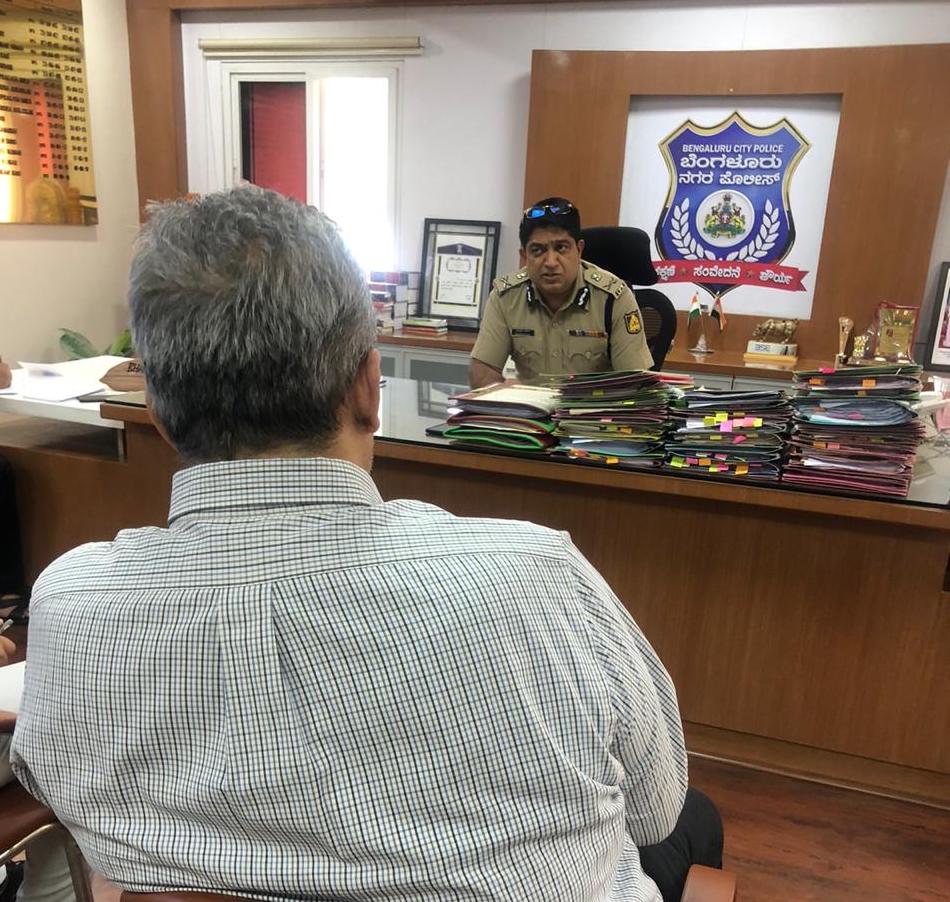 ABOUT COMMISSIONER RAO
A member of the 1990 batch of IPS, he has held several positions across the spectrum including those of Deputy Commissioner of Police in various parts of Karnataka, he was Commissioner of Police in Mysore, Managing Director of Keonics, Inspector General of Police, Internal Security among other positions. Mr Rao was closely associated with protection of Foreign Companies in the aftermath of 9/11 attacks in the USA while he was Superintendent of Police, Bangalore Rural District.
With inputs from Prakruti Banwasi