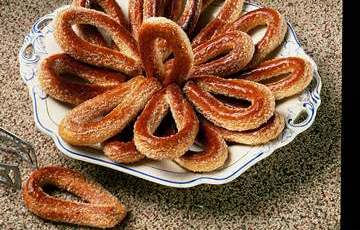 Torcetti Cookies are twisted cookies from Italy. Crunchy on the outside and lightly coated in sugar, these cookies go well with a glass of milk, hot chocolate, tea or coffee or even wine.
They are from the Northern part of Italy of the Valle D'aosta region that borders France and Italy.
These yeast raised cookies (which is not typical for cookies and mainly used for bread) are also simple to make and not too sweet which makes it a good snack.
Torcetti came to be when a baker had left over dough. He didn't change much to it except slightly sweeten it, sugarcoat it and twist them into whimsical shapes to distinguish it from the shapeless bread it would have become.