In a watering hole in the Whitefield jungle, one can hunt the Red Rhino. Judging by the interest it has sparked, it seems a safari for which it is worth braving the traffic.
Red Rhino is another creation of Chef Abhijit Saha. This is the fourth venture for Saha - Bangalore's celebrity chef and doyen of Caperberry and Fava. "We are not your regular watering hole," Saha told Explocity, "what you get here is not only a focus on beer and food, but also on the interiors, the music. We want to provide wholesome entertainment."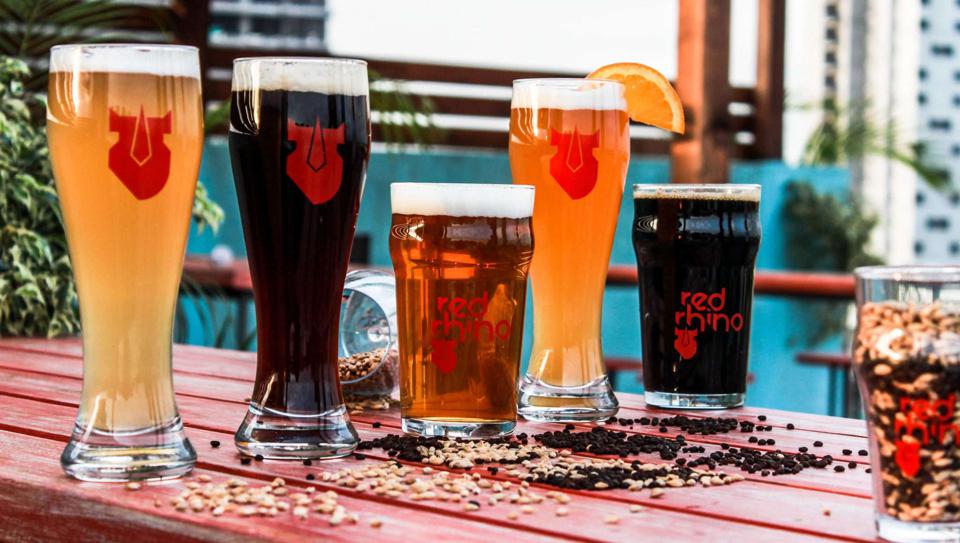 Red Rhino's decor is industrially inspired with metal, wood, brick, leather and testosterone. The main bar area holds the bar and the semi-open kitchen, loft-style seating as well as special private seating area. And the al-fresco seating and terrace bar allows you to remember that Bangalore is "salubrious" in July and August while the rest of the nation swelters.
Saha and his partners Kishore and Rachana Reddy, having got their hunting licence, are all set to launch over this weekend. "Our brewmaster, Valen Garrison, is from San Diego and he is used to working with the highest quality beer," Saha told us. There will be four regular brews and one seasonal brew available on tap. With a brewing capacity of 5HL, Red Rhino is among the larger microbreweries in the city. (We n00bs didn't know that an HL meant hectolitre. Apparently, one hectolitre is 0.61 beer barrels. Gee thanks, g00gle.)
As the famous saying goes, where goes Saha, there comes food. So Red Rhino Whitefield promises to be as much a food experience as a microbrewery. "We are a craft brewery and inspired kitchen," Saha told Explocity, "the focus is on a global cuisine."
Several small plates cover cuisines from mezze platters and falafel, to Chandni Chowk ki Aloo Tikki and of course, Mutton Pepper Fry. And inevitably, Pan Asian small plates with tofu, corn cakes, summer rolls and dim sum. Interestingly, the chicken wings - all three varieties of them - are baked and not fried. And yes, pizzas and burgers are staple at most microbreweries and it's no different at Red Rhino Whitefield.
But lest kebab and grill lovers think to protest, no need, there's meat in the jungle. And who says you can't eat salads at a brewery? Thought has gone into creating a substantial menu for mains, with Asian bowls, Indian dishes like Nellore Chepala Pulusu.
Saha suggests beer and food pairings. The Seasonal Pale Ale with notes of lemongrass and ginger goes well with Mushroom Pepper Fry and Baked Chicken Wings. The Wheat Beer - Soul Surfer -  combines well with the Malai Pista Chicken Kabab, Dynamite Tofu and the ravioli. The Spanish Prawns, Olive Tepanade Fish Tikka and dim sum would be the ideal accompaniment to the traditional Blonde Lager. The Black Pearl, a stout combining the flavours of chocolate, caramel, caramel and lactose, goes well with the Red Rhino Steak Frites and the Lamb Chops, and the Red Rhino Chili Chicken. And finally, the Indian Pale Ale - Bangalore Daze - combines well with the Lemon Basil Chicken, Crispy Lotus Stem or the Red Rhino Mutton Shikampuri Kebab.
And to cap it all, there's an extensive dessert menu with intriguing dishes like panacotta made of chia seeds and a bear poached pear and lemon tart.
To the question that shakes the core of the microbrewery business plan, what if I don't drink(?!) Saha said, "If you don't drink, we guarantee that the food experience will make your visit worth it."