What is it about a performance centre—"auditorium" does not do it justice—that causes the artiste in me to abandon my reserve and break into a joyous, "Ga-Ga-Gorgeous" Or, "Ma-Ma-Marvellous"?
As a Carnatic singer, my ilk and I often perform at venues that are—how shall I put this politely—acoustically challenged? Some of them are known to be "difficult" in terms of acoustic management and live audio engineering. Some suffer from small stages—ok, pigeon holes—and insufficient lighting… forget "stagecraft".
We (Carnatic musicians) are so used to this that when we travel abroad and visit venues there, say, Carnegie Hall or Lincoln Centre, we don't for a minute think that we ought to have one of these in Bangalore. Simply because it seems like a dream and not real.
And then, last weekend, Explocity asked me to review a performance at the Prestige Shrihari Khoday Performings Arts Centre—an evening of Sufi culture, complete with the famous Whirling Dervishes.
And thus, I found myself at the Prestige Srihari Khoday Performings Arts Centre, standing in front of its grand, sweeping facade.
Let me put this in simple terms—the dream of a world class venue in my hometown has come true.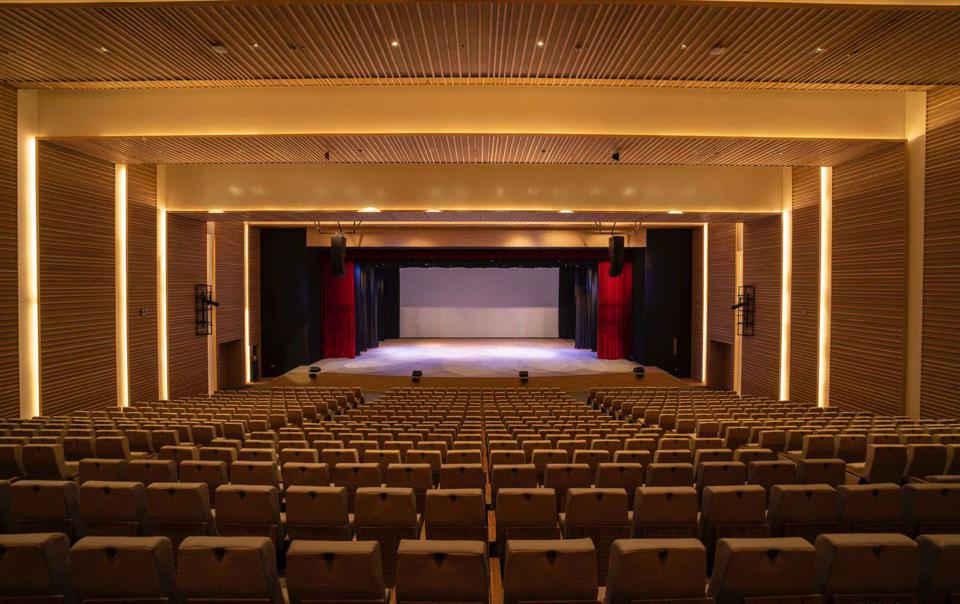 I will not labour to repeat what was already written about the Prestige Centre because this publication already described the venue in detail—read, "Culture gets another boost-The Prestige Srihari Khoday Centre for Performing Arts, published on 24 January 2023— but I will repeat that this is a venue that truly understands and respects the performer, not only because it's an acoustic marvel and a great venue all in all, but also because it is, in a real sense, a performance centre. 
By that I mean that a true "centre for the performing arts" would look at everything to do with the arts—rehearsals, production, education and presentation, all in a single space.
I am happy to say that venue is all that.  Its very metabolism—people, artists, parking, types of audiences and their needs have all been considered before planning the complex.
So I am standing there, about to go in. The venue management is waiting to take me on a guided tour before the performance begins.
I am entranced by the façade—artistically stark, minimalist but staggering in its presence. (And on a more mundane note, there's plenty of parking. I cannot stop smiling happily about this and fellow Bangaloreans will at once understand why.)
And, again as a performer—one who has devoted her life to endless compromise on the quality of venues in my pursuit of the arts—I am no less enchanted by the facilities. A huge stage (77' x 45', big enough to accommodate a full symphony orchestra), proscenium (the part of the stage in front of the curtain) style seating, constant curvature line-array loudspeakers, active stage monitors, motorised lighting capable of programmable light effects. 
And all of this, right here in Bangalore.
There, I have that out of my system.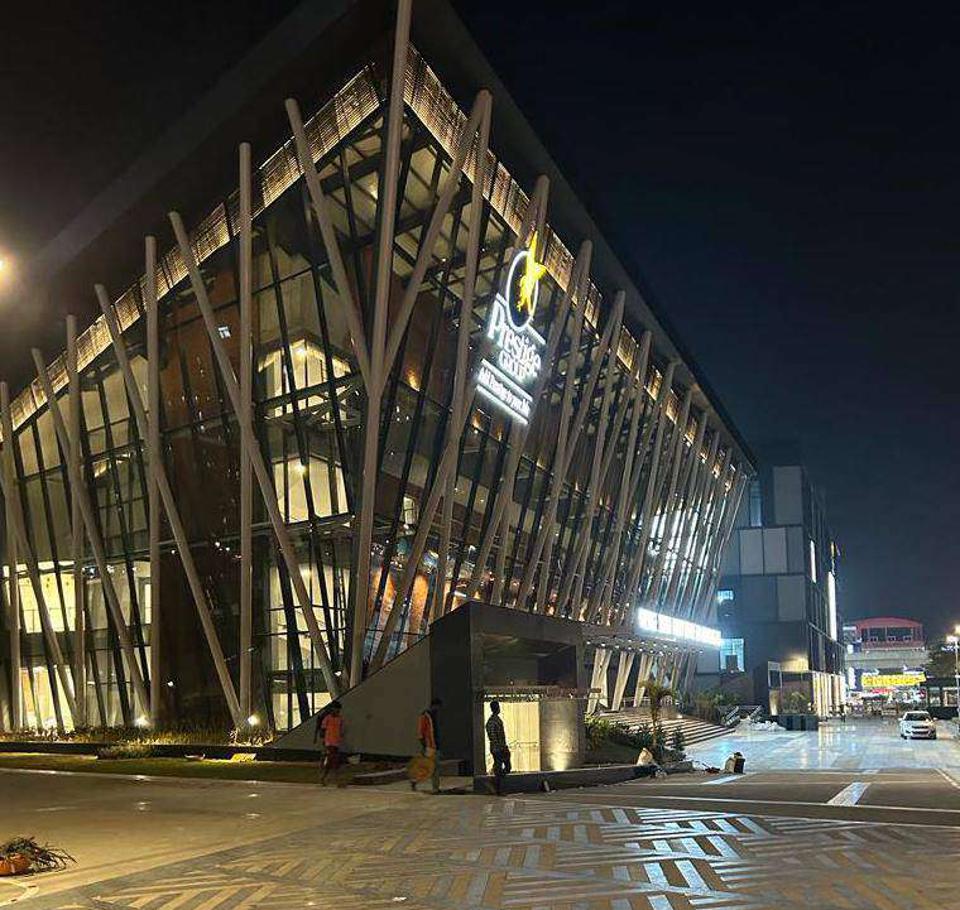 The show was called "Sufiyaan" and it was a concert by the Konya Ensemble from Turkey. The theme —as the name suggests — is Sufi, but it is an unusual Sufi experience.
Sufi—for most Indian audiences—would mean the Nusrat-Fateh Ali-type of Sufiyaan experience, with vocal pyrotechnics and high-energy orchestra backing. This performance was much more subtle. It drew you in even if that suggests a somewhat introverted performance.
The first set featured the musical ensemble. They presented a rich palette of microtonality. And this microtonality we would consider to be different from what we know as Indian classical musicians.
The Carnatic aficionado would recognise Mayamalavagowla—and the family of minor mode-type raagas, presented with a contrasting approach—favouring dissonant gamakas (glides, slides and note-embellishments) and note-relationships.
(I heard one "mama" from South Bangalore — clearly a discerning and schooled listener — say, "It all sounded like vivaadi raagas."  I smiled. He was talking about raagas that thrive on dissonant conversations between component swaras.)
The sweeps, slides and glides of microtonality in the music can indeed nudge the mind into a powerful grey of stillness.
And next, the Whirling Dervishes.
I am sure most people will recognise a whirling dervish when they see one — they are the ones dressed in flowing robes. They dance by spinning constantly. It is quite the sight. Their path—so to speak—is to find the divine through ecstasy through dance.
Some would know that the origin of Whirling Dervish ceremonies can be traced back to the 13th century, when Jalaluddin Rumi, a renowned Sufi Muslim mystic and poet, established it as a form of meditation. Born in Persia and residing in Konya—the capital of the Turkish Seljuk Empire at the time—Rumi believed that dance and music were the path to divine enlightenment. He would fast, meditate, and dance ecstatically, leading by example and inspiring others to follow. As a result, the "sema"—as Rumi's dance was called—quickly spread throughout the vast Ottoman Empire, becoming a hallmark of the Sufi tradition. As this tradition developed, so did its rules and forms.
A radical idea—one might argue—of using the body to exalt the mind into ecstasy by swirling movements, cyclic tunes and transcendental lyric.
It is very different from the "showmanship" that is expected of performers in the "musically-vibrant world music arena". 
But what the concert managed to do was to introduce Bangalore audiences to another vista of what musical experience could be—as a contemplative cocoon of sound to transport the mind into deeper levels of consciousness. Entertainment as entertainment to the divine. And that is exactly what the Konya Ensemble achieved; to rethink the very purpose of why we could seek music.
Not through a sensory overload of sound but through a guided sensory shaping, towards the perception of the divine within. 
Not just to enthral but to elevate.