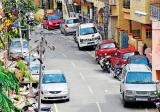 An internal assessment conducted by BBMP's Town Planning Department revealed that there are15 Lakh buildings in Bangalore that have violated the parking norms. Officials in the department point that there are only five lakh buildings in Bangalore that have followed norms, of the total of 20 lakh buildings approved by BBMP.
Under Chapter 8 of the Zoning Rules for Bangalore City, providing parking space is mandatory. The builder should provide parking space in the building and it can be any floor of their premises. No permission for construction can be given if the builder does not show provision for parking in the design plan. Further, in case if they have a cellar, that should be used as parking space. In the absence of a cellar, then any floor can be used as parking space by providing adequate passage ways.
"But this rule remains only on paper. Most buildings in Bangalore do not provide parking space. There are instances where we (the BBMP) have included parking slots in the plan before giving approval. But when building has been constructed, parking slot is absent. BBMP officials are also equally responsible for this violation," said a BBMP official.
BBMP Commissioner N Lakshminarayan said that he was aware of this problem but his priority now is to get the parking policy implemented. "Once the parking policy is implemented, many problems will be solved. So far, no drives have been conducted or thought of to raze such structures."
Reproduced from Deccan Herald