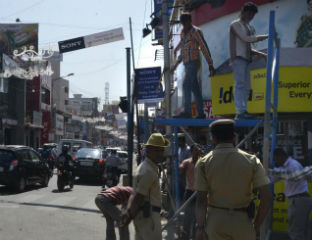 As revellers get ready to party this evening, the police are prepared to monitor the celebrations. 30 watch towers and 50 CCTV cameras have been set up in the central business district.
Also part of the security force will be 700 police personnel and 33 platoons of reserve police force. These include 20 Karnataka State Reserve Police (KSRP) and 13 City Armed Reserve (CAR) platoons.
Kamal Pant, the additional commissioner of police (Law and Order) said the department had put in place elaborate security to maintain law and order. "As thousands of revellers throng M.G. Road and Brigade Road every year during New Year's Eve, we have set up 30 watchtowers for aerial monitoring," he said. Police personnel at these watch towers will be given binoculars and walkie-talkies.
Policemen deployed in and around the M.G. Road area will also be equipped with cameras to record any incidents requiring further action. While the focus will be on M.G. Road area, the police have also identified other sensitive areas and stepped up patrolling.
Flyovers will be closed to traffic from 8 p.m. to 6 a.m. Police have been directed to intensify patrolling on arterial and main roads, where revellers tend to drag race and ride recklessly. Mr. Pant warned that the police would act tough on drunk drivers, seizing their vehicles and detaining the drivers.
Reproduced from The Hindu