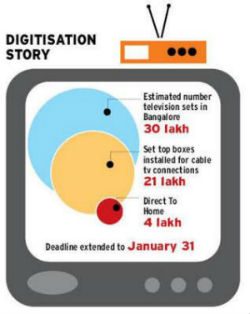 Up to five lakh TV sets in the city might go blank if they are not connected to Set Top Box (STB) by January 31, 2014.
Telecom Regulatory Authority of India (TRAI) adviser Sibichen K directed Multi System Operators (MSOs) to disconnect the signal to cable operators who fail to provide details of their consumers through the Consumer Application Forms (CAF) on or before January 31. The consumer should insist on the bill and those who do not get CAFs from the local cable operator, they can approach MSOs.
The new system ensures that subscribers pay only for channels they have chosen. From March 2014, cable operators are expected to issue bills containing the break-up of charges for subscribed channels, STB and taxes. "TRAI wants to ensure accountability," said Mr. Mathew.
There are around 30 lakh TV sets in Bangalore of which 21 lakh have been tagged with STB, sources in the industry said. Around four lakh TV owners have opted for Direct To Home (DTH) connections.
But Karnataka State Cable Operators Association president Patrick Raju claimed that cable digitisation would lead to a monopoly. This would not only kill the local cable operator's business but also burden consumers with high tariff in future, he said. "According to TRAI guidelines, cable operators have to merely collect subscriptions from consumers and hand them over to MSOs. Post-digitisation, MSOs may hike the subscription fee. Since they are the only service providers, consumers will have no option but to pay up," he said.
Reproduced from The Hindu