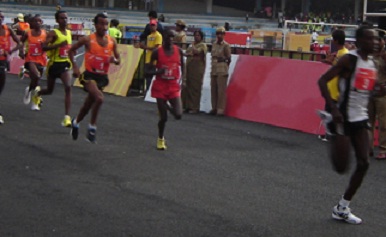 Kenyan marathon runner Daniel Yegon won the Bengaluru Midnight Marathon second time in a row, covering the distance of a little over 42 kilometres, with a timing of 2 hours, 11 minutes and 52 seconds.
Ebesa Merga Ejgu from Ethiopia came second, while Tripurari Singh from Bangalore came first in the Indian Men's category.
Yegon's compatriot, another Kenyan Gladys Jepkechei Tarus came first in the open category and Sudhamani from Chennai came first in the Indian category.
The competition saw participation by around 1200 runners and was promoted by competition's ambassador Milkha Singh with the tag line "Bhaag Bengaluru Bhaag".
Source: The Hindu
Image source: TimingIndia.com