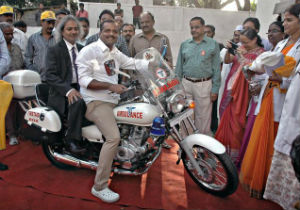 The government plans to introduce two-wheeler ambulances in Bangalore.
A model of two-wheeler ambulance was unveiled on Sunday by the Health Minister U.T. Khader when he came riding it to inaugurate the Pulse Polio immunisation drive at Ghousia Hospital here on Sunday.
Mr. Khader said that the two-wheeler ambulance would reduce the delay caused due to traffic jam while shifting the patient to hospital. He also said that the two-wheeler ambulance would, however, require some modifications. "We have asked the two-wheeler ambulance manufacturers to make provision for administering oxygen to patient during emergency. Without oxygen, the ambulance would serve no purpose. If the oxygen mask is fixed, it would stabilise the patient's condition," Mr. Khader added.
Reproduced from The Hindu