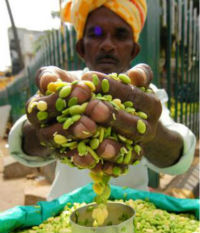 The 12-day avarebele mela will begin on Friday, December 27 at the Market Road near Sajjan Rao Circle. About 10,000 avarekai (val beans) lovers from various parts of the city are expected to visit the mela.
According to KS Geetha Shivakumar, proprietor of Vaasavi Condiments, the unique features of the flat bean fest will be Avarekai Paddu and baked nippattu. "We have engaged experts to prepare these delicious dishes made of flat beans," she said.
About 40 farmers from Magadi, Kanakpura and other places will take part in the fest. According to Geetha, the objective of Avarebele mela is to promote avare crop among the farmers by ensuring adequate revenue for them. "We will make arrangements for farmers to sell flat beans to consumers. We want to encourage them through this flat bean fest," she said.
The price of fried avarekai is expected to remain Rs400 a kg. It was doubled last year as against Rs280 during the previous year. "Soaked avarekai will cost Rs70 to Rs80 per litre and the cashew mix will be Rs500 a kg. Its price depends on the quantity of cashew used in the mix. We supply the cashew mix as per customers' requirement," Geetha said.
Chickpet MLA RV Devaraj and transport minister Ramalinga Reddy are expected to be the chief guests for the event. Dishes made of flat beans include hidukida bele payasa, mosaru kodbale, avarekai sambhar, masala vada, avarekai soanpapdi and jamoons among others. More than 40 items made of the beans will be on display at the avarekai parishe set.
The flat bean fest will be open between 11 am and 10 pm. For more details: Contact 9945158881/9632544801.
Reproduced from DNA
Picture Source: The Hindu