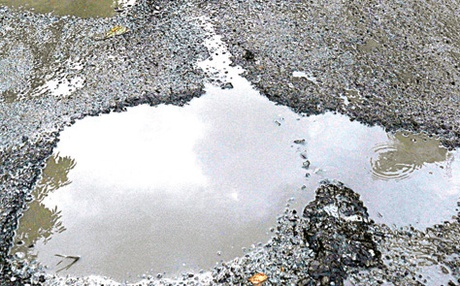 The deadline fixed by the Bruhat Bangalore Mahanagara Palike (BBMP) Commissioner to fill potholes expires.
An identified number of 34,827 potholes to be filled expires on Sunday, but 15,065 potholes are yet to be filled. According to the BBMP, till Saturday, it had managed to fill 19,762 potholes.
Engineer-in-chief D Rangaraju said, "We filled many potholes and, to fill the remaining, requisitions have come from eight BBMP zones. We are planning to extend the time by one more week and we have informed the Commissioner about this."
He said if normal tar is used, potholes resurface soon. "Therefore, we are using waterproof and emulsion-based tar. Though we failed to meet the deadline, we will complete the work in the next few days," Rangaraju added.
BBMP Commissioner M Lakshminarayana said sometimes, deadlines are set to make things happen and to inspire the officers and workers to speed up work. "This deadline was no different. Though we have not filled all the potholes, we have filled most of them within the deadline," he added.
Source: The New Indian Express
Picture Source: The New Indian Express