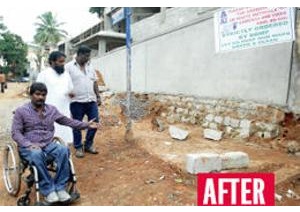 The residents of Shantala Nagar had requested the BBMP to clear out the garbage in their area. The BBMP reportedly ignored all such requests, until MLA NA Harris pressurised them to act. They did, only to make matters much worse than they were.
The BBMP cleared half the garbage, leaving the streets dirty and smelly. They didn't come back to clear the rest. This caused the residents to take things into their own hands and start a garbage clearance drive in their area. The drive was initiated by resident Thyagarajan K, National Fencing champion. Despite being wheelchair bound, Thyagarajan was instrumental in getting the residents to join hands for this effort.
The residents pooled funds to arrange for 'Earth Movers' and 'Tipper Trucks' and also to install a CCTV camera to keep an eye on the people who dump garbage in their area.
The garbage was taken to the BBMP's landfill near Mandur.
Source: Bangalore Mirror
Picture Source: Bangalore Mirror