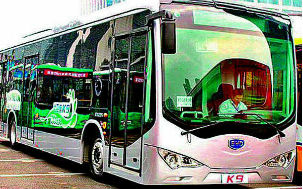 The BMTC (Bangalore Metropolitan Transport Corporation) is expecting to start with the first trials of the electric bus soon. They have brought the bus to the Majestic bus terminus and are awaiting clearances from the Regional Transport Office.
BMTC Managing Director Anjum Pervez said that BMTC and a Chinese company will conduct the trials for three months. "The electric bus is similar to a Volvo bus and will have a seating capacity of 41 passengers," he said. The biggest advantage with the electric bus is that it is environment friendly."
"There are several advantages, as it is noise and pollution free, Pervez said. After the Regional Transport Office (RTO) clearance, a formal inauguration will be held and the bus will be rolled out for trials. To check its performance, the bus will run on some of the busiest stretches in the city.
A BMTC official said that unlike noisy and polluting diesel engines, the electric buses are quiet and do not emit harmful gases. "The bus needs to be charged for six to seven hours and it can run anywhere between 240 and 260 km," Pervez said. Electric buses are being used the US, Canada, China, Japan, Singapore and several European countries.
India still does not have a fully operational electric bus, and if Bangalore Metropolitan Transport Corporation decides to adopt one, it will be the first transport corporation in the country to do so. But the cost could be a hindering factor, an official warned. The price of an electric bus is almost double of a diesel vehicle, he said.
 Reproduced from Deccan Chronicle