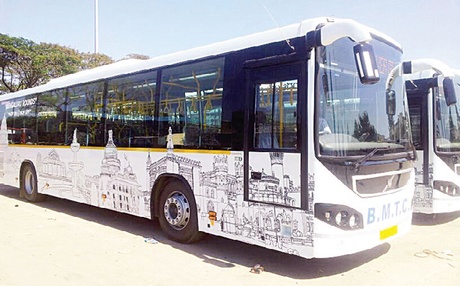 To promote tourism in the Central District Area (CBD) of the city, the BMTC has identified 20 tourism spots, which will be connected with HoHo (hop on and hop off) buses. Seven air-conditioned buses will be operated on this basis.
Incidentally, after Mysore, Bangalore is the favourite destination for tourists in the state. There are, however, no dedicated public transport systems in place to promote tourist spots in the CBD areas. The tourist spots identified by the corporation include Lal Bagh, Vidhana Soudha, Tipu Sultan's Summer Palace, ISKCON temple and Bangalore Palace, among others.
BMTC Managing Director Anjum Parvez said, "As of now only one bus schedule called 'Bangalore Rounds' is catering to tourists. But tourists travelling in that bus cannot spend much time at any given place where they would like to spend more time. The new special buses operate clockwise and anti-clockwise. As these buses operate at regular intervals, tourists can spend more time at spots of their choice. We have already carried out a survey on operating these buses and have received positive feedback from the general public. Bus passes purchased by passengers will permit them to travel in all the buses operated by BMTC."
The official said that the dedicated HoHo buses will be painted white, and will feature displays of the tourism spots. However, BMTC is yet to finalize the fare for these buses.
BMTC is also planning to operate weekend buses to tourist spots like Wonderla, Innovative film city, etc. located on the outskirts of the city.
Reproduced from Bangalore Mirror
Picture source: New Indian Express