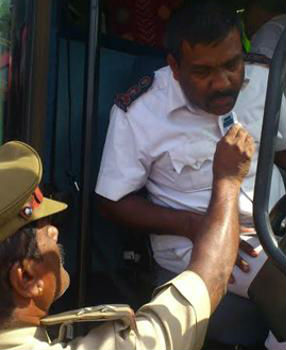 KSRTC drivers will be tested for alcohol intake both before they begin the day's journey as well as en route.
KSRTC has obtained breathalysers and drivers will have to show they are "clean" before they depart from depots. The tests are already being carried out and will cover all KSRTC depots across the state. Ever since the safety measure was put in place two months ago, eight drivers have failed the test. The drivers have been fined.
"We had been receiving complaints on drunken driving of late," said N Manjunath Prasad, managing director, KSRTC. "Some drivers were believed to be inebriated while on duty. As a preventive measure, we have regularised what used to be random checks. We have now got breathalysers and every driver has to pass the test as mandatory. If any of our staff are found drunk, he will be replaced immediately. Not just this, he will have to face disciplinary action too,"
KSRTC plies over 8,300 buses to various destinations across the state and transport more than 25 lakh passengers every day. To deter drivers from having a 'stiff one' en route, the state-run corporation has also set up mobile check points where drivers will be made to undergo breathalyser tests. On an average, drivers will be subject to tests one in two hours. "The tests will not be restricted to one place and will be spread across routes. Whosoever is found guilty will not be spared," said Manjunath Prasad.
Reproduced from Bangalore Mirror