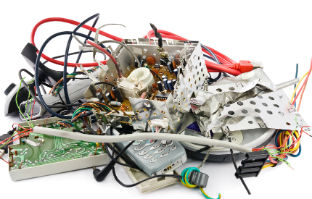 The IT City tag has come with a heavy price, thanks to negligence in electronic waste disposal and recycling by public and private sectors.
A recent international study by scientists of Ehime University, Japan, in association with local experts, revealed that there are many informal backyards and scrap units in the city where e-waste is not recycled as per the norms. This poses serious health risks to people working there and those around them.
The study, Environmental contamination and human exposure to hazardous substances in e-waste recycling sites in India and other cities, found high concentration of persistent organic pollutants in e-waste, like polybrominated diphenyl ethers (PBDEs) in soil samples of informal backyards.
PBDEs content in Bangalore (2,000 nano grams/ gram of dry waste) is more than in countries like Vietnam, Cambodia, Indonesia, Japan and the US. In scrap yards, the concentration is also high (840 ng/g dry waste). The figures for Chennai are 400 ng/g and 200 ng/g respectively. Only some cities in China are ahead of Bangalore in PBDE levels.
Reproduced from Times of India