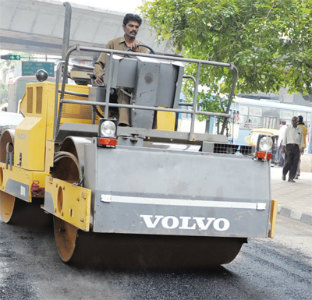 Chief minister says all roads in city will be widened and developed; offers hope on garbage clearance.
For Bangaloreans, there is no getting away from pot-holed roads till the monsoon ends. Chief Minister Siddaramaiah said on Monday that efforts would be made to fill up the potholes only after the rainy season is at an end.
Speaking to media persons after releasing a book - Hundred Days and Hundreds of Resolutions - on Monday, Siddaramaiah said the budgetary funds for development of infrastructure in Bangalore would be spent as soon as the monsoon was over.
"Filling up of potholes will be taken up and the government wants to develop all the roads,'' the chief minister said. As for disposal of garbage, he said that had already instructed the BBMP Commissioner M Lakshminarayana to solve garbage-related problems within six months.
"I hope the BBMP Commissioner to complete the task within the stipulated period,'' he said.
On the failure of the pilot projects to make 22 city palike wards garbage-free, he said the BBMP had launched the pilot projects recently and it needed some more time to make them a success.
The chief minister said the state government had allocated Rs 60 crore for the widening and developing of 13 roads in the BBMP's new wards and the work on seven roads was in progress.
Reproduced from DNA