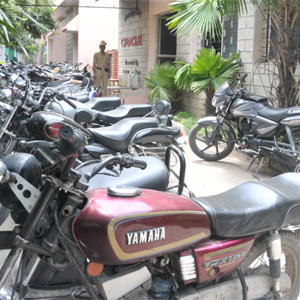 The Bangalore police have recently started towing away unlocked two wheelers parked by residents on roads outside their houses in order to teach them a lesson. Over the past three days, the cops have towed away 30 bikes and booked cases against the 'negligent' residents.
Several residents in the Indiranagar area who are accustomed to parking their two wheelers on roads outside their houses, woke up on Monday morning to find their vehicles missing. They immediately thought that their vehicles had been stolen, but after going to the local police station they realised that they were in fact punished by the police for being irresponsible.
On reaching the police station premises, the two-wheeler owners were surprised and to an extent relieved to find their bikes parked there. At first they believed it was exceptional that the police had tracked their stolen vehicles and the thieves even before a complaint was filed. But they were later informed that the police themselves had 'towed' the bikes away in order to teach the residents a lesson.
The cops said they will continue their drive against unlocked vehicles.
Source: Bangalore Mirror (story and pic)