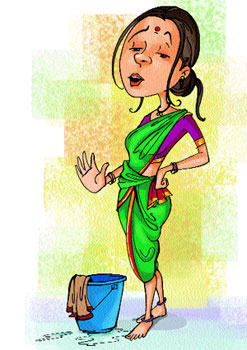 Don't be surprised if your domestic help does not come to work from today. Starting today, domestic workers are on a strike in Bangalore.
The National Platform for Domestic Workers (NPDW) has called the nationwide strike from June 15 and rally to Delhi by July 31, demanding legislation to regulate employment and set up a board to oversee conditions of work and provide social protection.
On June 15, the unions and organisations are rallying from Banappa Park to Town Hall.
There are over 50 lakh domestic workers in Bangalore, said Sister Celia, National Care Team member in NPDW. She said that the natiowide campaign is supported by 50-60 unions and NGOs who work for the betterment of domestic helpers. "The condition of domestic workers in India is unjust and unpardonable. A large section of domestic workers come from vulnerable communities and backward areas. Most of us are poor, illiterate, unskilled and do not understand the urban labour market," said Celia.
Source: The Times of India