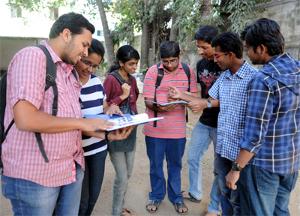 A student group called 'Ramose' have been working part-time, conducting various events to generate funds to distribute 3000 books and stationery kits to children studying in government schools.
Ramose means 'branching out' in Latin. It was started by Kaushik HA and his school friends. Over a year and a half, Ramose has helped government school students, pouranamikas and other NGOs.
The youth today are widely regarded as apathetic, self-centred and obsessed with technology and facebook. Perhaps Ramose could inspire others to take a leaf out of their book.
Source: Bangalore Mirror.