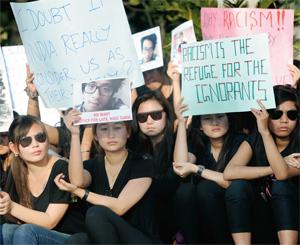 It has been reported in sections of the press that the Bangalore University is planning to set-up a special hostel for female North East students as they reportedly have a lot of problems in local PGs.
The move appears to be in response to the fatal attack on Nido Tania, the Arunachal Pradesh student in Delhi. A large number of students from the North East come to Bangalore every year and Bangalore University is issuing a circular to all colleges to take care of them apart from planning the exclusive hostel.
Some Bangalore thinkers however wondered if providing an exclusive facility for one type of people did not amount to sequestering them.
The photo above appeared in Bangalore Mirror.