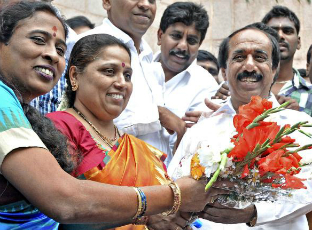 The new mayor, BS Sathyanarayana, has said that strengthening administration to complete many pending projects will be his priority.
Addressing reporters after being elected as mayor, Katte Sathya, as he is popularly known, said he may not have enough time but he would ensure that the BBMP machinery works at a faster pace.
He vowed that he would work for the overall growth of the city in spite of the fact that the order for him is to serve just for eight months.
"Development of roads, lakes in the city, garbage clearance and improvement of storm water drains would be my priority. The poor financial condition warrants for a better revenue collection system, proper advertisement policy and bringing funds from state and the central governments," said Sathya.
He assured corporators that he would rise above the party line for the development of the city and treat all the wards equally. Regarding the budget, he said if required he may propose a supplementary budget to accommodate some of his ambitious proposals.
Reproduced from Deccan Herald
Pic source: The Hindu