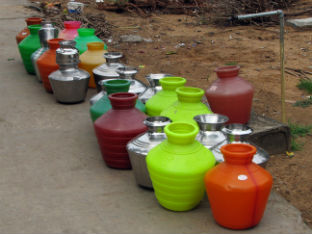 The BWSSB (Bangalore Water Supply and Sewerage Board) has been urging the state government to allocate more water to Bangalore. In response to an order from the Karnataka High Court stating that civic authorities must ensure water to the 110 villages that have been merged into the BBMP area, the BWSSB said that they need at least 10 TMC of water for these areas.
This 10 TMC is out of the 17.64 TMC of Cauvery water that is Karnataka's share and has not been allocated for any purpose as yet. Bangalore needs additional 8.19 TMC of water to meet the demand till the year 2021.
This proposal is based on a recommendation in the Thyagaraja Committee Report to find alternative sources of water for the city, which recommends drawing more water (up to 15 TMC out of 17.64 TMC) from the Cauvery. The 17.64 TMC of unallocated water in Karnataka's share is meant to take care of any future use and can be decided by the state considering its priority.
Considering the HC order, the BWSSB is now in the process of figuring out if it can draw a little more water from the Cauvery from the given allocation, which can be supplied to the newly merged villages.
This has become crucial since the BWSSB-BBMP's plan of using the water from 599 borewells that exist in these areas did not work out. After testing, the water was found to be contaminated. Now, the BWSSB has informed the High Court that water will be supplied to the villages in tankers."We can supply two or three loads of water in 30 tankers of 6000 litre capacity, every day, to these areas," a BWSSB official said.
Reproduced from Deccan Chronicle