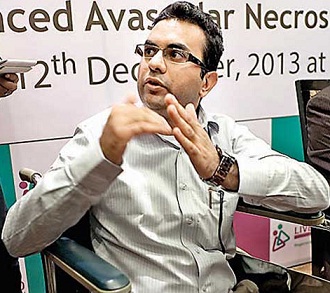 Pakistani businessman Imran Qureshi had visited several doctors and hospitals across the world for treatment of avascular necrosis (cellular death of bone components) but was only offered extensive surgery as a solution. However, city based Ba­ngalore Institute of Regenerative Medicine suggested stem cell therapy, rather than surgery.
Qureshi was certain about not wanting surgery and hence travelled and consulted doctors in the US, Saudi Arabia and China but found out about stem cell therapy being provided here in Bangalore, over the internet.
Qureshi is as good as cured with just one last injection left and all set to fly back home to Pakistan and see his family and his month old daughter.
However, all has not been rosy with Qureshi's trip. Reportedly, owing to his nationality, city hotels refused to provide him any accommodation. Qureshi was asked to report to a faraway police station, somewhere in Electronics City.
Barring the treatment by the police and hotels though, Qureshi was happy with the Ba­ngalore Institute of Regenerative Medicine.
Source: Daily News And Analysis