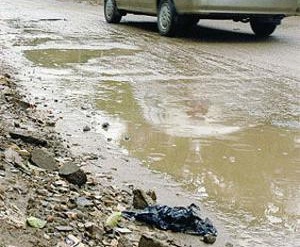 Due to an increase in accidents and deaths caused by potholes, not to forget traffic gridlocks and road rage, the Bangalore traffic police has written to transport minister Ramalinga Reddy, singling out 36 potholes on major or arterial roads, urging for those to be filled quickly.
The additional commissioner of police, B Dayanand said that the 36 potholes listed pose a serious threat to motorists.
The police conducted a study on reasons for congestion and the inconveniences faced by motorists in the city where peak hour speeds don't exceed 10 kmph.
Source: Bangalore Mirror