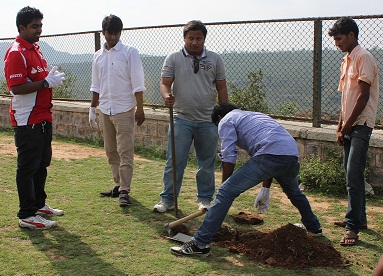 Bangalore based motorists' club Motorphillia recently organised the 'Green Gear Ride'. As part of the event, 21 owners of vintage motorbikes, jeeps and cars revved up their engines at the Rajarajeshwari Nagar arch at 6:30 am on Sunday, October 27. Their destination was the historical Rayagopura monument in Melukote, Mandya District. They reached there at 10:30am.
The team of motorists and members of the Motorphillia club weeded the area around the monument, cleared the place of plastic and garbage and removed names and graffiti painted on the monument. The team finally planted around 40 trees around the monument and wrapped up around 6:30pm. They reached Bangalore around at 10:00pm.
Chethan and Naveen, co-owners of Motorphillia said, "We managed to contribute a little towards the environment and a monument. If we had more time and manpower, we could have done so much more for Rayagopura."
In the days to come, Motorphillia hopes to organise more such events in association with motorists and vintage motor enthusiasts.