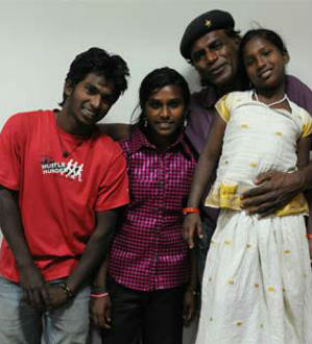 Reshma Malaika used to be seen begging on the streets in Bellandur. She was six years old then. Now, at 19, she is the lead actress in a film directed by John Devaraj, called Rosa Mystica. The 15 minute film is based on the true story of Reshma.
Malaika used to live at a bus stop with her mother. Her father had abandoned her years earlier. When she came back home one night after begging, she found her mother dead at the bus stop. She had to take the body to the graveyard by herself.
The movie will be released on Children's Day at the Alliance Francaise, at 11:15 am. The creator of the film, John Devaraj of Born Free Art School, has directed, acted in and given music to the film. "We want to make this film reach school students, which is why I thought that Children's Day was the best occasion to release it," he said.
The role of Rosa as a child is played by Ranjitha Rosa, who was also seen begging on the streets of Jayanagar until a few years ago. Both of Rosa and Malaika have made their debut in the film.
Malaika is now learning sculpting from Devaraj at the Born Free Art School. The school educates these children through arts, putting them back into the mainstream of education. Malaika says, "Acting was a wonderful experience for me. Since the incident happened years ago, it was a little difficult for me to recollect the whole experience. But by and large, I think it will send out a positive message to society." The assistant director of the film is Subramanya who is also a student at the Born Free School and once used to sell tender coconuts with his father.
Reproduced from Bangalore Mirror
Picture source: Bangalore Mirror