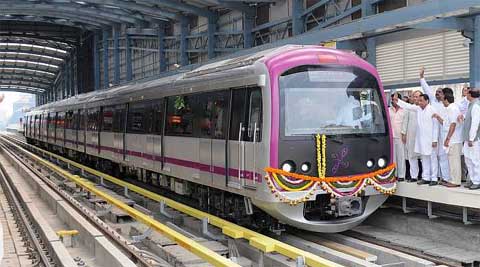 Pushing the deadline for the completion of Metro Phase 1 to 2015, Chief Minister Siddaramaiah has said that the Reach 3 (Sampige Road to Yeshwanthpur) and Reach 3A (Yeshwanthpur to Peenya) sometime in February 2014.
The exact date hasn't been disclosed yet as some construction work in the station is still underway.
Reach 3B (Peenya to Nagasandra) is expected to be completed by August this year and the underground east west corridor between MG Road to Magadi Road is expected to be completed by December this year.
Repeated problems with land acquisition and increases in project costs have plagued the deadlines and delivery of phase 1 of Namma Metro. The work was scheduled to be completed in 2011. It was pushed to December 2013 and the latest deadline is now March 2015, in which the final stretch of the north-south underground corridor between Sampige Road and National College, and the underground Majestic stretch will be completed.
Source: Indian Express