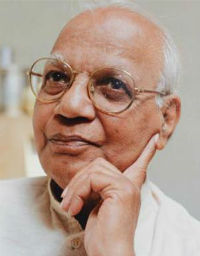 Writer, poet and professor, Dr G S Shivarudrappa, fondly known as GSS passed away on Monday at his residence in Banashankari. He was 87. He is survived by his wife, two sons and a daughter.
GSS's body will be kept at KIMS Hospital for the public to pay their last respects till Thursday morning. He will be cremated on the same day at the Bangalore University campus with full state honours. "He wanted to be cremated on the premises of Bangalore University, which was very close to his heart," said his son Prof. G.S. Jayadev.
The poet laureate had been ailing for sometime. "I have lived my life to the fullest. I don't want to be put on a life-support system," he had told his family members.
Chief Minister Siddaramaiah, who laid a wreath on the mortal remains of GSS, said it was an 'irreparable loss' to the state and Kannada literary world. He announced a two-day state mourning from Monday as a mark of respect to the poet. The state government announced a holiday for all schools, colleges and government offices on Tuesday. Banks too will remain closed, as the order has been passed under the Negotiable Instruments Act.
Along with the Chief Minister, former Prime Minister H.D. Deve Gowda, Jnanapith awardees U.R. Ananthamurthy, Girish Karnad and Chandrashekar Kambar, writer Baraguru Ramachandrappa, poet Lakminarayana Bhat, and scores from the literally world paid their respect to GSS at his residence on Monday.
Reproduced from Deccan Chronicle